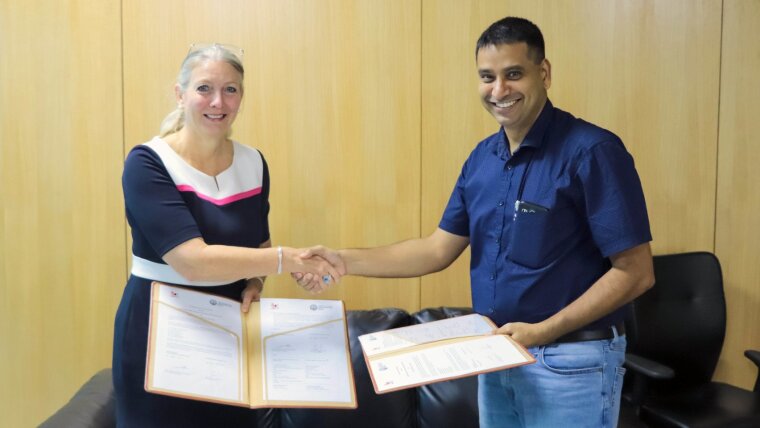 Extending cooperation with India
University signed a cooperation agreement with a research institution in Pune
Prof. Harinath Chakrapani and Dr Claudia Hillinger signed the agreement.
Published: | By: Stephan Laudien
In Pune, India, the University of Jena has signed a cooperation agreement with the Institute of Science Education and Research (IISER). Head of International Office, Dr Claudia Hillinger, paid a visit to the institute. She is a member of the Thuringian economy and higher education delegation to India which is visiting Bangalore, Coimbatore, and Mumbai between 7–13 September 2019. The delegation is led by Valentina Kerst, the Permanent Secretary of Economic Affairs at the Thuringian Ministry of Economy, Science, and Digital Society.
"We would like to strengthen the partnership with India and strive for an intense exchange with this country", says Hillinger. Focussed on natural sciences, the Indian Institute of Education and Research in Pune is an ideal partner for the University of Jena. Its core fields of research are chemistry, materials sciences, IT, and biosciences. The IISER is among the leading research institutions in India and is specialized in basic research. Currently, in total 102 students from entire India study at the University of Jena, most of them as doctoral candidates or taking a master's degree in natural sciences.
As Claudia Hillinger adds, the University has been maintaining contact with IISER Pune for several years now, in particular the Institute of Inorganic and Analytical Chemistry and the Institute of Physical Chemistry. Until now, the institutions in Jena and Pune have hosted several visiting scientists and scholars, conducting their research at the partner institution or lecturing there. By signing the cooperation agreement, the partners intend to develop joint research projects and enable student exchange.
In the future, both partners are about to extend their cooperation to further disciplines, for example, to earth sciences and biosciences. "The aim of this visit is to attract competent and excellent partners among the Indian research institutions to cooperate with the University of Jena", explains Hillinger who is convinced of the great potential of collaborations with partners from the Indian subcontinent.
Dr Claudia Hillinger
International Office
Fürstengraben 1
07743 Jena, Germany