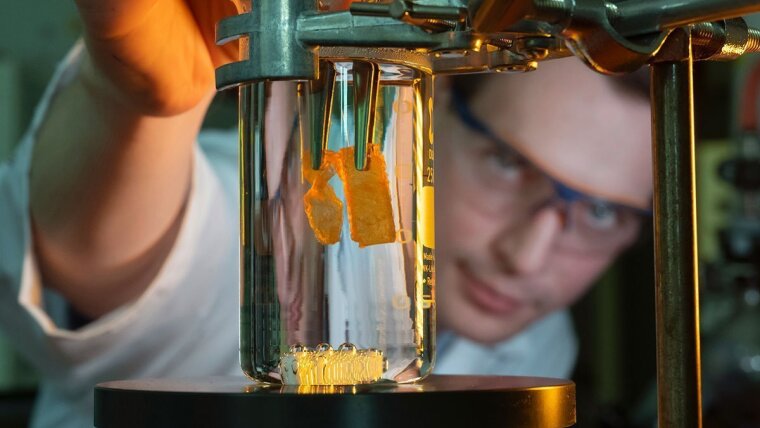 Plastic can be sustainable
Jena research group receives two million euros to research intelligent, recyclable plastic materials
The University of Jena is researching sustainable, intelligent plastics.
Research
Knowledge Transfer and Innovation
Published: | By: Marco Körner
Sustainable plastics that have the ability for self-healing, have intelligent pro­perties and can be recycled if required will be the subject of future research at Friedrich Schiller University Jena. A project in this field, coordinated by the che­mist and materials scientist Prof. Ulrich S. Schubert, is being granted two million euros in funding from the Carl Zeiss Foundation.
Repairing scratches with a hair dryer
"Imagine scratched surfaces on household furniture, for example in the kitchen," says Schu­bert, describing a possible application for these intelligent plastics. "You simply heat up the relevant surface – for example with a hair dryer – and it not only looks like new, it is new." These vitrimers, as they are known, are intended not only to make everyday objects more durable, so that they need to be replaced less frequently, and, thus, have an important en­vironmental impact. They can also be recycled more easily. "Composite materials in par­ti­cular are extremely difficult – if not impossible – to recycle, because the materials used in them are virtually impossible to separate," explains Schubert. This problem is shown clearly when wind turbines have to be replaced. "Large amounts of waste are generated, even just by the rotor blades. Apart from a few exceptions, there is no suitable strategy for reusing these resources."
This situation could be changed with intelligent materials such as vitrimers. "These materials are switchable," says Schubert. "That means that their processability can be controlled in a defined manner." In theory, one could produce composite materials that could be separated and reused if neces­sary. This is exactly what the team coordinated by Schubert wants to study over the next five years. "We are particularly interested in fibre-reinforced materials," adds Schubert. "In this work, we want to embed glass and carbon fibres in the new plastics, which can, among other things, be used for lightweight construction and to reduce CO2 emissions. However, we are also interested in nanocomposites, in which nanofillers reinforce the material."
On the way into our everyday lives
The Jena scientist is convinced that these sustainable plastics will eventually find their way into our everyday lives and will one day be used in aircraft, on surfaces or in tennis rackets, for example. "Vitrimers are still a very young class of polymers. As yet, there are no specific practical applications. However, our goal is enabling a new generation of sustainable mate­rials by our research."
The prospects for this are excellent. "When it comes to researching innovative polymer ma­terials, Jena clearly ranks among the top German universities," says Schubert. This is demon­strated not least by the new Center for Energy and Environmental Chemistry Jena II (CEEC Jena II) and the attached CEEC Jena Application Centre, in which a total of 50 million euros are currently being invested and which will further strengthen the University of Jena as a re­search location in this field.
Schubert and the project consortium have also convinced the Carl Zeiss Foundation of the merits of the study. The ambitious project has now been approved for substantial funding of two mil­lion euros over a period of five years. "Normally, you only receive such a sum for a large coordinated project of the German Research Foundation," explains Schubert. In the coming years, eight doctoral candidates will study this new class of materials, from their syn­thesis and processing, through their underlying mechanisms to their environmental impacts. A new junior research group will also be established.