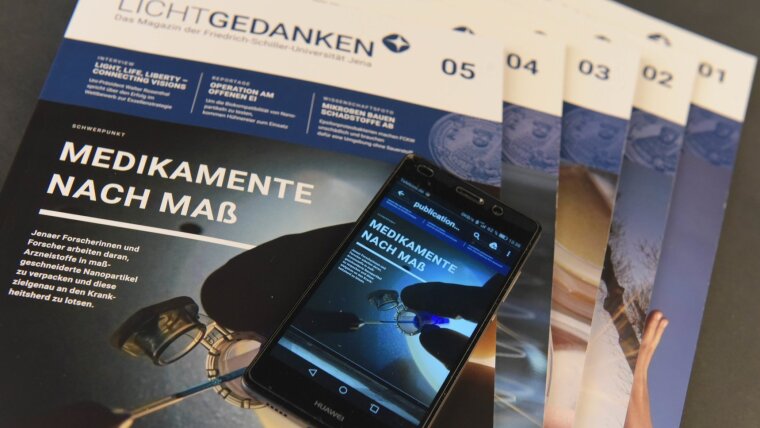 Made-to-measure-medication
English-language edition of Jena University's research magazine LICHTGEDANKEN follows scientists in their search for tailor-made drugs and targeted therapies
Published: | By: Ute Schönfelder
Inflammatory diseases, infections, cancer: in 2019 there are still many conditions for which there are either no therapies or existing treatments are insufficient. The problem is often not a lack of active substances, but rather the difficulty of getting a drug precisely and efficiently to the location of the disease. The latest edition of Friedrich Schiller University's research magazine, LICHTGEDANKEN, focuses on 'Made-to-measure-medication', presenting projects and studies in which scientists in Jena are working to create more targeted therapies.
The magazine reports, for example, on pioneering research to develop nanoparticles which not only package drugs securely, but can also transport them to the desired destination and release them there. The article takes the reader into a laboratory of Jena University's Institute of Pharmacy, where nanoparticles are tested for biocompatibility in an unusual chicken's egg model.
In addition to this key topic, LICHTGEDANKEN again explores a wide variety of research projects. Articles highlight a study showing that psychological crises can actually be helpful to young people; investigate personality differences between people from western and eastern Germany; and follow the journey of ancient exhibits from a Jena collection to the Louvre in Paris. Also in the magazine: 'Light, Life, Liberty – Connecting Visions' – an interview with University President Walter Rosenthal on the new motto for Friedrich Schiller University's research strategy.
Copies of LICHTGEDANKEN can be found in University buildings and cafeterias in Jena. The magazine can also be read online at: http://www.epaper.uni-jena.de/lichtgedanken/05_EN/