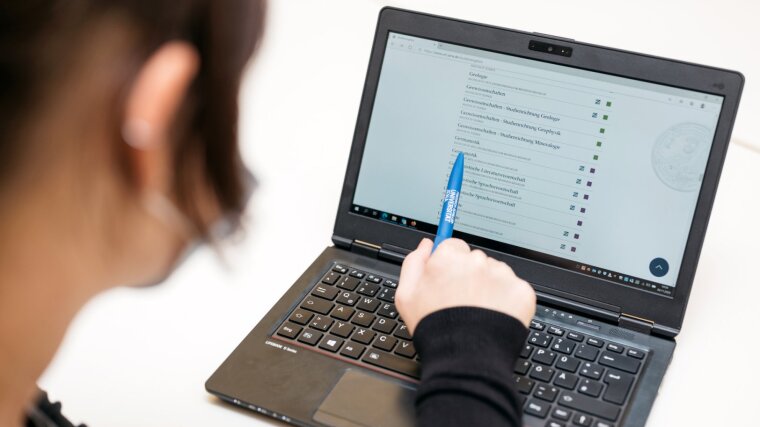 Application and Requirements
Essential information for you on application and admission requirements
Prospective students do research in the course database
Application procedure and deadlines

How do I apply?

An application for admission to a master's programme is only possible online via the application portal Friedolin 2.0.
You find detailed information on how to apply correctly for a master's programme on here

.

What application documents do I have to upload online?

The required documents are listed in the section "Application documents" on the information page of your desired master's programme

External link

.
Application documents can only be uploaded as PDF-files. Each PDF-file must not exceed a size of 5 MB.

What are the application periods and deadlines?

Summer intake: from 1 December to 15 January. ONLY applies to master's programmes which allow for a first summer semester intake!
Winter intake: from 1 April onwards. The application deadlines differ from one programme to another. Please take utmost care to check and respect the different application phases: Application periods for master's programmes 

pdf, 302 kb
Admission requirements

What are the admission requirements?

Mandatory admission requirements for master's programmes at the University of Jena differ from one programme to another.

Where do I find information on the admission requirements?

Specific requirements for each course - such as mandatory language requirements or necessary academic skills - are listed on the information page for each study programme. See all master's study programmes.
German language requirements for master's programmes in German

Who needs to provide a German language proficiency proof?

International and German applicants with a foreign university entrance certificate, who wish to apply for a German taught master's programme, i.e. programme with (predominantly) German as language of instruction

What language certificates are accepted?

Deutsche Sprachprüfung für den Hochschulzugang (DSH), min. level 2 (= DSH-2),
the Goethe-Zertifikat C2 (GDS),
the Deutsche Sprachdiplom der Kultusministerkonferenz (DSD II),
the TestDaF, min. TDN 4 in all four parts of the examination,
Certificate telc Deutsch C1 Hochschule (min. level "befriedigend"),,
a German language examination in the framework of an assessment test at a preparatory college.

Who is excempted from providing proof?

Applicants who have obtained a German taught bachelor's degree within one of the following countries: Germany, Austria, Switzerland, and Liechtenstein. This applies only to degrees that were awarded by a university in the relevant country (no satellite campuses or international branch campuses in other countries, no correspondence course degrees, no joint- or double-degrees with institutions in other countries);

Holders of a German, Austrian or Swiss (from school where the language of instruction is German) university entrance qualification.

What do I have to do when the required German language proficiency proof is not available at the time of application?

You may only apply if you can show a certificate attesting your German language skills at least at level B2 (Common European Framework of Reference for Languages) AND
a test registration confirmation for e.g. TestDaF, DSH or an equivalent test

Can I apply for the DSH course at the University of Jena?

You may apply for the (chargeable) "German Language Course Preparing for the German Language Examination (DSH)" at the University of Jena. Please note: Language skills at min. level B1 (e.g. Goethe-Zertifikat B1, TestDaF at least 4x3 and/or 800 teaching units from a recognized language school) are required for the preparatory course application
For detailed information on the application and further information, please visit the website of the International Office at https://www.uni-jena.de/en/DSHcourse.html or contact the International Office directly incoming@uni-jena.de .
Shortly before taking the DSH-2-Examination or after successfully passing it, you are welcome to apply for a German taught master's programme