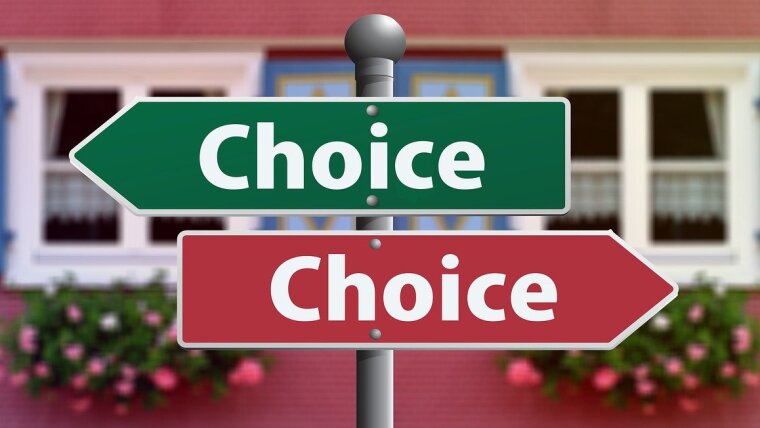 Deciding on the right study programme
Ways of choosing the right study programme
Nice to see you at this website. This is a good start because making decisions is not always easy.
It is just like when you are sitting in a pizzeria and you cannot decide on the right meal from among numerous options. All of them have advantages and disadvantages. You have just decided for one of them, but then the old doubts crop up again whether you had made a good decision and whether the other meal would have been better. Maybe this is exactly what you are going through when deciding on what study programme you should pursue. There are different decision types and, as a result, different methods to help you come to a decision. Some of them are based on analytical and rational principles, others rely on your intuition and instincts. What they all have in common, however, is that you should document it or at least said it out loud.
Do you need some help? Please make an appointment with the Central Student Advisory Service.
Ruling out options

Sometimes it is easier to decide what you do not want to do. In particular, this method might be useful if some of the most important features have been already cleared up. Once your decision to study at the University of Jena is firm, you can, for example, use the list of all study options score out those you do not want at all. Then take a look at what is left.
Apparently, you can now see the study programmes you really want to do and mark them in a specific colour. You could perhaps mark those with which you are not familiar with a third colour.

Be careful! This method does not identify any secret desires and longings. It is rather designed to show you the "lesser of two evils".

The pros and cons lists

Put down the advantages and disadvantages of deciding for a specific study programme. This method helps you to gain a good overview and to order your thoughts. You may address some of the negative aspects by asking targeted questions.

Be careful! The study programme with the highest number of advantages does not win automatically because the list does not show how important each aspect might be to you.

Roll the dice

If you cannot decide at all, perhaps because both options seem equally good, then you can roll the dice. It is not letting fate decide instead of you, but rather to reflect your own feelings spontaneously and consciously.

Comparing pairs

If you have a vast number of options which should be put into an order, in other words, if you have to determine the "winner", you can compare pairs of study programmes first. If you have never heard of the method before, you might visit this website.
Central Student Advisory Service
University Main Building / SSZ
Fürstengraben 1
07743 Jena
Office hours:
Monday, Tuesday, Thursday and Friday from 9:00 to 12:20, Tuesday 14:00 to 18:00 and on Wednesday and Thursday from 14:00 to 16:00.

We offer consultations and the handling of your concerns in person, via video chat, service desk or telephone.

Appointments can be made by phone or via service desk.
Video chat:
Monday to Friday 12.30 to 13:00
ZSB2020