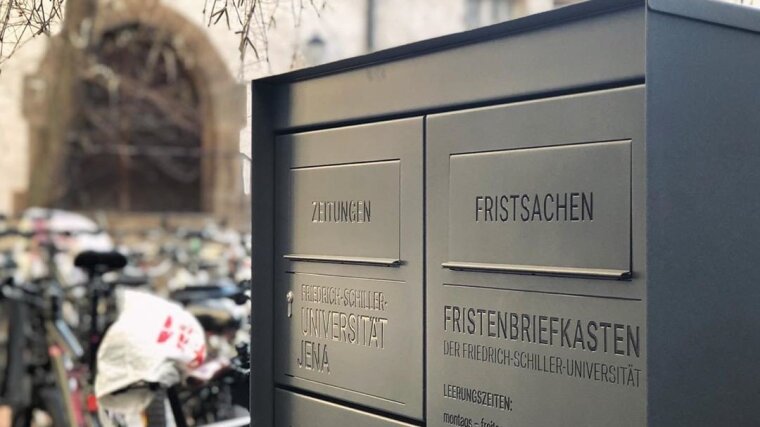 Deadline letterbox
Timely delivery until midnight on the closing date
deadline mailbox at the Schloßgasse
The three-part letterbox is located at Fürstengraben 1 (University Main Building). You can access it via Schlossgasse entrance. Letters with a maximum height of 5 cm can be posted until midnight on the closing date to be accepted as delivered on time.
The deadline letterbox is part of a letterbox system with three slots for general mail, newspapers, and time-sensitive matters.
You can post letters up to a height of 5 cm.
To guarantee successful delivery, the envelope must include the details of both recipient and sender (institution, name, address). Please make sure that the envelope is sealed.
Collections happen daily around 7:00 from Monday to Friday. There are no collections on closure days and on public holidays.
All collections will receive a receipt stamp stating the relevant date.
Information
How it works
The deadline letterbox has a built-in intermediate shelf. At midnight, a timer activates the shelf lowering it down onto the letters that have been posted by then.
The mechanism separates the letters that have been posted before and after midnight allowing them to be stamped accordingly.
Post Office of the Friedrich Schiller University Jena
University Main Building, Room 0.02, Ground Floor
Fürstengraben 1
07743 Jena
Opening hours:
Monday - Friday, 7:00 - 15:30

Contact person: Karin Pfeifer