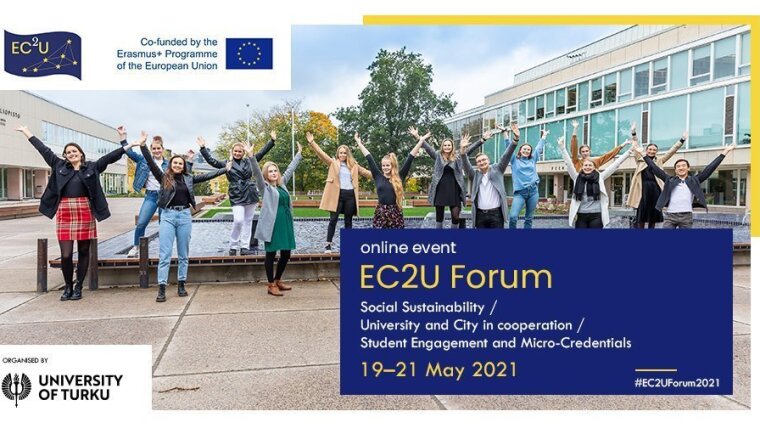 Second EC2U-Forum
19 - 21 May 2021
The 2nd Forum organised by the EC2U Alliance will take place virtually on 19–21 May. It will be hosted by the University of Turku, and will focus on topics including social sustainability, collaboration between universities and cities, and micro-credentials/recognition of students engagement.
Every six months, the Alliance organises the EC2U Forum to gather students, staff, citizens, local and regional authorities to foster open dialogue on pressing issues in society and to share good practices. The Forum in Turku will be free of charge, open to all, and will be organised virtually due to the COVID-19 situation.
The European Campus of City-Universities (EC2U) is a multi-cultural and multi-lingual Alliance consisting of seven long-standing, education- and research-led, locally and globally engaged universities from four diverse regions of the European Union: the University of Coimbra, the University of Iasi,  the University of Jena, the University of Pavia, the University of Poitiers (Coordinator),  the University of Salamanca and  the University of Turku.
The registration for the second EC2U Forum can be found here.
Programme :
Wednesday 19th May
10.00–10.45 CET  Opening of the Forum
11.00–13.00 CET  First webinar and Panel discussion on Social Sustainability
13.00–14.00 CET  Thematic Discussions with Coffee
14.00–16.00 CET  WP4 Peer Support and Peer Counselling of Student in EC2U Workshop for Students
Thursday 20th May
10.00–12.00 CET  Second webinar and Panel discussion on University and City in cooperation and research
12.00–13.00 CET  Thematic Discussions with Coffee
14.00–16.00 CET  Student Event
Friday 21st May
10.30–11.30 CET  Building a value-based community: findings of the 1st EC2U Think Tank survey Value4YourValues
12.00–13.45 CET  Higher Education Round Table on: Student engagement and micro-credentials
13.45–14.00 CET  Closing of the Forum
14.00–15.00 CET  Social Programme: Virtual City Walk on the banks of river Aura
15.00–16.00 CET  Casual Discussion and Evaluation