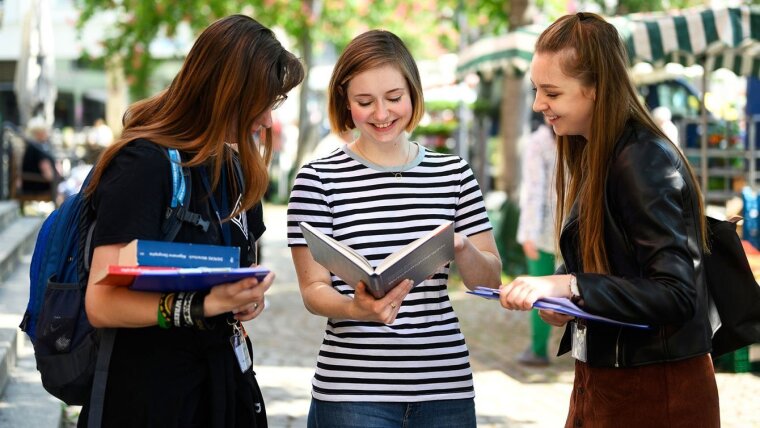 Honours Programme For Future Researchers
One of the core activities of the University in its teaching and research is the promotion of talented students who are enthusiastic about science. Teaching staff at all faculties make an effort to identify students excelling in their studies, provide them with individual support, and enable them to engage in research activities. The honours programme encourages this very mission and increases its visibility by offering a structure and a variety of opportunities to identify and promote talents at an early stage.
The aim of the Honours Programme for Future Researchers is to give talented and research-oriented students a deeper insight into research processes during their studies, to enable them to participate in the scientific community, and to prepare them for a scientific career.
High-achieving students from all study programmes are welcome to apply. Students apply together with a professor or an advanced postdoctoral researcher who will supervise them.
The call for application starts each year st the beginning of the summer semester.
What does the programme offer?
Honours funds: financial support (participation in conferences, invitation of visiting lecturers, organization of student research conferences, or other material costs of up to €1,000 per year)
Honours workshops: research skills and networking events (organized by the Graduate Academy)
Honours mentoring: involvement in research activities and individual support (guidance by the supervising scientist)
Please find further information about the programme, the selected students and their projects on https://www.uni-jena.de/en/honours-programm.
The Honours Programme is coordinated by the Graduate Academy.
Contact:
Dr. Annika Bartsch
Graduate Academy
House for young researchers "Zur Rosen"
Johannisstr. 13 07743 Jena

Phone: +49 3641 9-401330
Fax: +49 3641 9-401302
E-Mail: honours-programm@uni-jena.de