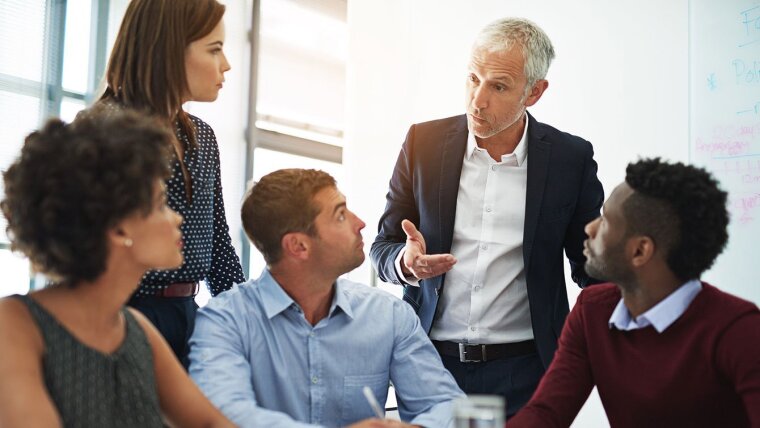 D: Communication, Leadership and Management
Skills development for academia and other professional areas
Gruppe von diskutierenden Menschen
In your day-to-day work, you develop lots of skills both for managing projects and for working with people. These skills are needed in and outside academia. You work in a team, come to terms with your boss and supervise others. Your doctoral project and other projects need planning and management. You structure your schedule, make decisions and find ways to solve problems.
The following workshops offer reflection, training and professional tools to expand your capabilities in these fields.
All current workshops of this category are available on the qualifications portal of Jena University.
Offers of Personnel Development

The Personnel Development of Jena University aims to develop the specialist and personal qualifications of staff according to individual need. This includes measures for developing competences in scientific management and academic self-administration as well as management development for academic staff. The Personnel Development offers young researchers:

Discussion/Appraisal Interview between Employers and Employees:
Training sessions for management and staff according to the university's guide to holding appraisal interviews with non-academic staff.

Offers for executives and teams
Jena University is considering further offers to strengthen leadership competence and also supplies support e.g. through mediators when necessary and available. There are also workshops on various leadership topics.

Health Promotion
The "Uni Jena...rundum gesund!" project provides you with various health-promotion actions: sports activities, trainings in mindfulness, ergonomical trainings, nutritional workshops, leadership trainings, and many others.

Further information can be found in the Jena University qualification portal.

Offers of Service Centre Research and Transfer

Business Competence – start up and growth of enterprises
This lecture gives insight into basic business knowledge and into using this knowledge during start-up and development of enterprises. Previous knowledge is not necessary. The specific dates of the lecture can be found in Friedolin.

Young Entrepreneurs in Science

The Falling Walls Foundation has developed this workshop series for entrepreneurial thinking and acting. It is taking place at different locations throughout Germany and twice a year in Jena.

In the four-day, interactive workshop, doctoral candidates and postdocs will use practical methods and tools, e.g. Design Thinking, and will discover many opportunities available to translate their skills into concrete business ideas. They will also meet entrepreneurs from fresh start-ups. Depending on the language skills of the participants, the workshops will either be offered in German or in English. Please find more information and the registration here.