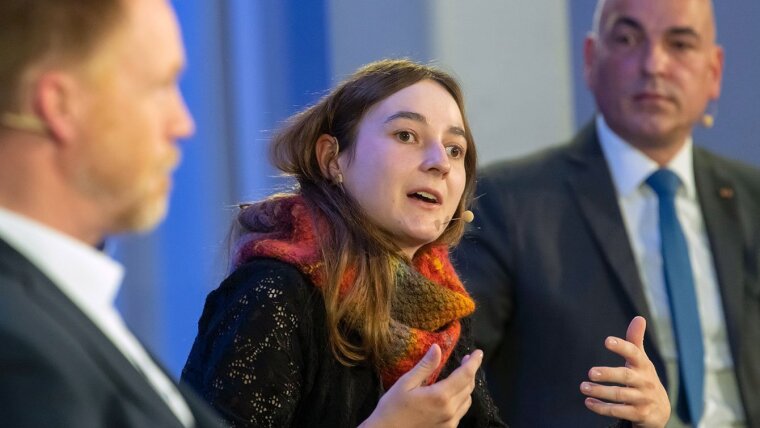 Career Talks
Career Talks​ and Events on Career Paths
In order to get an insight into the different career paths after completing your doctorate, various talks on career paths will be held online between 12:00-13:00h each day. The access data will be published on the website the day before the event.
Please notice that for the "Career Talk with Companies" you have to register in advance. Here External linkyou can register.
Keynote "Turning Scientific Innovations into Business"

Dr. Tobias Janoschka studied chemistry (Dipl.) and economics (M. Sc.) at Jena University. In 2013, he founded JenaBatteries GmbH with an interdisciplinary team of research scientists and economics experts. In a world powered by renewable energy, JenaBatteries is the leading supplier of metal-free stationary energy storage offering a sustainable alternative to metal-based solutions containing lithium, vanadium, lead or other critical scarce metals. For his works Dr. Tobias Janoschka received the Thuringian Research Prize, the IQ Innovation Prize, the Fund Scholarship of the German Chemical Industry Fund and the STIFT Prize for applied-oriented theses.
Career Talk with Alumni​

In order to get an insight into the varied career paths after completing your doctorate, Dr. Tina Haußen (Dako GmbH) and Dr. Martin Wimmer (Trumpf Laser & Systemtechnik GmbH) will share what helped them on their personal career path after the doctorate. The talks will be held in English.

Dr. Tina Haußen

Dr. Tina Haußen studied Business Administration from 2007 to 2012 at the Friedrich Schiller University in Jena. From 2012 until 2016, she worked as a research assistant at the Chair of Economics and Public Finance at the Friedrich Schiller University in Jena. Her research interests included preferences for public spending, human capital and digitalization, migration, i.e. of the highly-skilled, gender issues in economics and education policy. She was a member of the DFG-Graduate School "The Economics of Innovative Change". In 2016, she defended her PhD thesis "Public Spending and its Relation to Redistributive Preferences and Highly Skilled Migration" and received the award for the best doctoral thesis of the year 2016 from the Faculty of economics and business administration.

From 2016 until 2019, she worked as a Postdoc and co-project leader of two projects funded by the ESF (Europäischer Sozialfonds and Freistaat Thüringen): WOM–Weltoffen miteinander arbeiten in Thüringen and 'HiTh–Hochqualifiziert.International.Thüringen'. In 2019, she moved to the private sector as an IT-project leader at the company DAKO GmbH, where she manages projects in the field of sustainable logistics concepts. She continues to be an affiliated researcher at the Chair for Public Finance.

Dr. Martin Wimmer

From 2008 until 2013, Dr. Wimmer studied physics at the Friedrich-Alexander-Universtität Erlangen-Nürnberg. During this time, he focused both on optics and computational methods in physics. In his master's thesis Dr. Wimmer investigated theoretically and experimentally the light propagation through a photonic fiber network in the group of Prof. Ulf Peschel. In 2013, he finished his master courses and started a doctoral thesis on "Experiments on Photonic Mesh Lattices" closely related to his master's thesis. In 2015, the group of Prof. Peschel moved to the Friedrich-Schiller-Universität Jena, where Dr. Wimmer continued his thesis until the defense in 2018.

Always motivated to stay in the field of optics Dr. Wimmer searched for a job in industry building a bridge between simulations and optics. He started at the Carl Zeiss SMT GmbH in Oberkochen as a scientist for algorithms specialized on novel interferometers. After two years at Zeiss Dr. Wimmer moved to the area of Stuttgart, where he now works for Trumpf Laser & Systemtechnik GmbH as an optical engineer for ray and wave optical simulations. In his daily work Dr. Wimmer simulates optical systems on a single component level up to the full scale machine closely collaborating with colleagues from software development and mechanical constructions.
Karriereweg Fachhochschul-Professur: Ungeahnte Möglichkeiten?!

Die Professur an einer Fachhochschule (FH) stellt eine attraktive Möglichkeit dar, die eigene Karriere in Forschung und Lehre fortzusetzen. Wer Spaß an der Lehre hat und sich für angewandte Forschung interessiert, sollte diesen Karriereweg kennen – hier gibt es ungeahnte Chancen!

Im Rahmen des Podiumsgesprächs sollen die Besonderheiten einer Professur an einer Fachhochschule bzw. an einer Hochschule für Angewandte Wissenschaften (HAW) dargestellt werden. Wie sieht der Berufsalltag aus? Welche Qualifikationen in Forschung und Lehre sind nötig? Und welche Anforderungen gelten für die dreijährige außerhochschulische Berufspraxis, die für eine Berufung vorzuweisen ist?

Prof. Dr. Oksana Arnold (Professur Theoretische Informatik / Künstliche Intelligenz, FH Erfurt) und Prof. Dr. Mario Brandtner (Professor für Allgemeine Betriebswirtschaftslehre, EAH Jena) werden von ihrem persönlichen Weg und ihren Erfahrungen berichten. Außerdem wird Thomas Schmidt (Projektmitarbeiter an der EAH Jena) kurz skizzieren, wie man noch fehlende Voraussetzungen für die FH-Professur ausgleichen kann.

Moderation: Dr. Hanna Kauhaus (Graduierten-Akademie)
Career Talk with Companies

At the "Career Talk with Companies" you will learn more about career paths and opportunities at four companies.

At the beginning, the four companies will introduce themselves. After that, there will be four separate break-out rooms. In each room there will be a company, a moderator and about 8 to 10 doctoral candidates. You can choose three companies with which you would like to talk, thus having the chance to get to know three companies and the opportunity to ask any questions you may have about starting a career in business: What are the entry opportunities in the respective company? Which qualification and competence profiles are in demand? When is a good time to apply? What should be considered when applying and coming from another field (Quereinsteiger)? After ten minutes, you will change the break-out room. The talks are held in both German and English.

More information about the companies:

Laborchemie Apolda GmbH ist ein familiengeführtes, mittelständisches Unternehmen mit Sitz im thüringischen Apolda. Seit der Gründung im Jahre 1949 als VEB Laborchemie Apolda werden Spezialchemikalien und pharmazeutische Wirkstoffe gefertigt. Kurz nach der deutschen Einheit wurde die VEB Laborchemie 1993 privatisiert und ist heute eine 100%ige Tochterfirma der HEYL Chemisch-pharmazeutischen Fabrik. Dr. Björn Schowtka (Geschäftsführer) wird von den Einstiegs- und Entwicklungsmöglichkeiten berichten.
Deutsche METROHM GmbH ist ein Tochterunternehmen der Metrohm AG mit ihrem Hauptsitz in der Schweiz, einem der weltweit bedeutendsten Entwickler und Hersteller von Analysensystemen für die Ionenanalytik. Die Deutsche METROHM Prozessanalytik projektiert und fertigt maßgeschneiderte Prozessanalysensysteme, die für die Überwachung und Steuerung chemischer Prozesse in unterschiedlichsten Branchen, wie z.B. in der chemischen Industrie, der Wasser- und Abwasseranalytik, der Umweltanalytik, der Stahl- und Automobilindustrie, der Halbleitertechnik oder in der Leiterplattenherstellung eingesetzt werden. Dr. Kerstin Dreblow ist Product Manager Wet Chemical Process Analyzer und wird von den Einstiegs- und Entwicklungsmöglichkeiten berichten.
Roche Diagnostics GmbH is a global pioneer in pharmaceuticals and diagnostics focused on advancing science to improve people's lives. The combined strengths of pharmaceuticals and diagnostics under one roof have made Roche the leader in personalised healthcare – a strategy that aims to fit the right treatment to each patient in the best way possible. The Roche Group, headquartered in Basel, Switzerland, is active in over 100 countries. Representative: Eva Lobentanz (Senior P&C Expert Strategic Programs)
Robert Bosch Car Multimedia GmbH: Bis zum Jahr 2030 soll der Markt für softwareintensive Elektroniksysteme von Fahrzeugen jährlich um rund 15 Prozent wachsen. Bosch will seine führende Rolle in diesem Markt weiter ausbauen. Im Geschäftsbereich "Cross-Domain Computing Solutions vor" (kurz XC) kommen Software-, Elektrik- sowie Elektronikentwickler aus den Bereichen Fahrerassistenz und automatisiertes Fahren, Infotainment sowie Antrieb und Body Electronics in einer Einheit zusammen. Dr. Ing. Thomas Kleine-Besten berichtet über eine Karriere beim Global Player Robert Bosch GmbH.

(update 27.10.21) Carl Zeiss AG is technology. ZEISS is optics and innovation. Our over 32,000 colleagues develop, manufacture and sell highly innovative products and solutions for our customers in a variety of business fields, generating revenue of over €6 billion. As one of the world's top technology companies with a portfolio aligned with future growth areas like digitalization, healthcare and Smart Production, and a strong brand to boot, ZEISS is shaping the future far beyond the optics and optoelectronics industries. The company's significant, sustainable investments in research and development lay the foundation for the success and continued expansion of ZEISS' technology and market leadership. Founded in 1846 in Jena, the company is headquartered in Oberkochen, Germany. The Carl Zeiss Foundation, one of the largest foundations in Germany committed to the promotion of science, is the sole owner of the holding company, Carl Zeiss AG.

There is limited seating for this event. After the registration deadline, you will receive an e-mail confirming or cancelling your participation. Your device for participation needs to be equipped with a camera and a microphone, as this is the only way to ensure interaction with the companies and other participants.
Career Talk with Alumni​

In order to get an insight into the varied career paths after completing your doctorate, four doctoral alumni will share what helped them on their personal career path after the doctorate. The talks will be held in English.

Alumni:

Dr. Jana Hildebrandt (Fields of Experise: Consultancy, Pharma Industry - Higher Management; working at AstraZeneca GmbH)
Dr.-Ing. Christoph Stihler
(Fields of Expertise: Optics and Laser Technology)