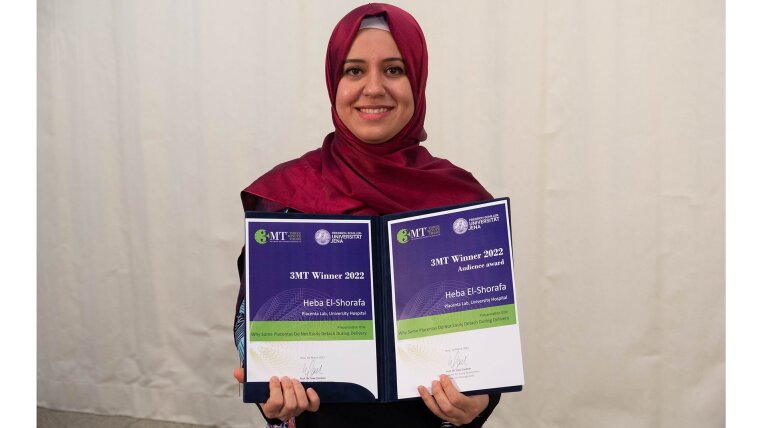 Three Minute Thesis Competition
In this online competition doctoral candidates present their research in three minutes
Impressions of Three Minute Thesis Competition from inside the broadcasting studio
This event is in the past.
Past event
More than 100 worldwide spectators followed passionately this year's "Three Minute Thesis" Competition of University of Jena. In this online competition doctoral candidates present their research in three minutes using only one static slide. 
The jury selected Heba Al-Shorafa of the Placenta Lab with her presentation called "Why some placentas do not easily detach during delivery" as winner of the jury prize. The audience also chose her as the best presentation. The runner off was Alexandra Schirmacher from the Mathias Schleiden-Institute with her presentation "The green, green way to a blue hue: Teaching algae to make dyes".
3MT® is an internationally renowned competition that is conducted at numerous universities throughout the world. It was invented in 2008, by the University of Queensland, Australia, and since then has been a registered trademark for frequent competitions that follow its idea. The Coimbra Group has established this competition in Europe. As a member of this renowned university network, the University of Jena takes part in this competition.
Heba El-Shorafa
"Why some placentas do not easily detach during delivery"
Christine Nussbaum
"The Sound of Vocal Emotions"