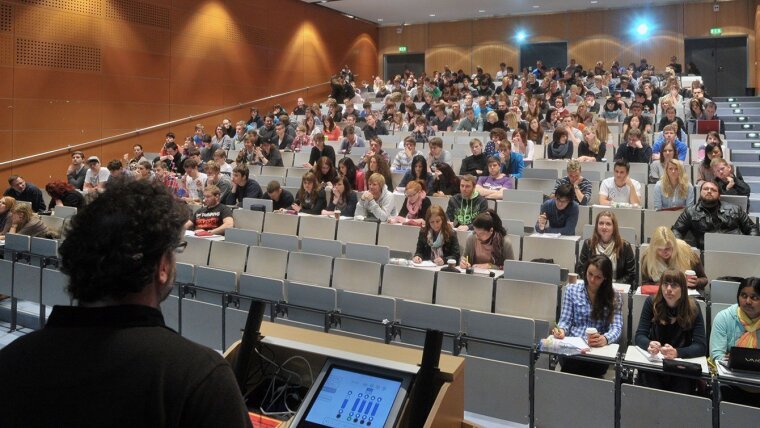 Permanent positions at the academic mid-level faculty
Information on permanent positions in research, teaching and science management
Many doctoral candidates and postdocs are hoping to get the opportunity to do their research and teaching in a permanent position at the academic mid-level faculty of a university. However, there are relatively few permanent positions for scientific staff or Akademischer Rat / Akademische Rätin in Germany and the chances to get such a position are no better than those of getting a professorship. Additionally, the academic job market has seen only few open announcements for these jobs so far as, mostly, universities consider long-established staff members for their open permanent positions.
Specifically for teaching at the university basic levels, there are also teaching staff for special duties (Lehrkraft für besondere Aufgaben), who perform a high level of teaching duties (16 to 18 lecture hours per week). These positions are considered less attractive by many researchers; on the other hand, the jobmarket might offer more job opportunities in this sector, depending on the discipline.
Friedrich Schiller University is aiming to offer their young researchers additional transparent and reliable career options next to the professoral or administrative career paths. Moreover, the university is aware of the necessity to create permanent job positions where needed, in order to provide for a lasting high quality in both teaching and research. Taking into consideration the flexibility and innovative capacity that are necessary at the university, as well as fixed-term qualification for both doctoral candidates and postdocs, the university has yielded a Richtlinie zur Einrichtung und Besetzung von wissenschaftlichen Funktionsdauerstellen (Guideline for the establishment and filling of academic permanent positions; In German).
The Guideline of Jena University centres around the following principles:
Every new academic permanent position is to be established on the basis of an integrated concept of the respective faculty.
Every academic permanent position is to be officially annouced.
A faculty committee will decide about the filling of each of these positions (multiple-eye principle).
Overall, a total of 20-30% of all budget funded academic personnel at Friedrich Schiller University is to work in a permanent position.
Academic permanent positions are established with a focus on the occupational sectors "research, research infrastructure, transfer", "teaching", or "science management".