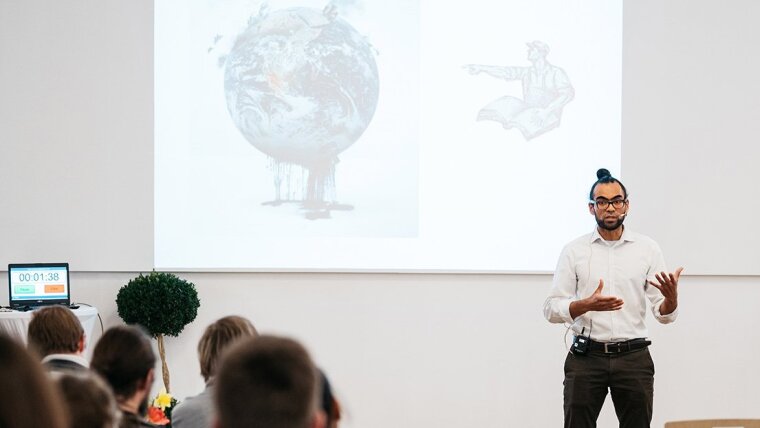 Special qualification offers
Qualification offers beyond workshops and seminars
Three Minute Thesis Competiton
Jena university offers various approaches to develop your skills. Besides workshops and seminars, there are other methods to learn and get trained in different aspects of your professional life: Individual Coaching focuses on self reflection and problem solving in practise, in a Science Slam or in KinderUni de you can apply your communication and presentation skills with a lay audience, and in "Young Entrepreneurs in Science" you can get a glimpse of the start-up scene.
Professional feedback on your teaching

You'd like detailed advice concerning your lecture or seminar? You'd like to gain insight into how you could further develop your teaching? Servicestelle LehreLernen offers individual feedback in response to this and similar requests.

You have the opportunity to have one of your lectures video recorded. The video will be made available to you so that you can see your teaching behaviour from a new perspective. As an alternative, a member of the LehreLernen Team can attend and sit in at your teaching event.

Following the recording or observation, you will receive structured feedback in an individual session and the chance to discuss selected aspects of your teaching event more in-depth.

If you want your lecture or seminar to be recorded, please write an e-mail to lehrelernen@uni-jena.de.

Peer-to-peer coaching for postdocs

Within the framework of peer-to-peer coaching, postdocs come together in a small interdisciplinary group for a regular, structured exchange. Together they develop ideas on how to deal with the challenges of everyday team and leadership life and benefit from each other's experience. The group consists of a maximum of six to eight participants. The meetings are accompanied and moderated by a trainer. Questions that are discussed in the peer-to-peer coaching can be, for example:

How do I communicate clearly and in a targeted manner?
How can I deal with conflicts in a solution-oriented way?
What kind of leader am I and what kind of leader do I want to be?
What is my position in the team and how can I deal with irritations?
Which of my expectations are justified and which are not? How do I set myself apart when expectations are placed on me that I cannot or do not want to fulfil?

Please find more information here. If you would like more information, please contact Anne Dünger.