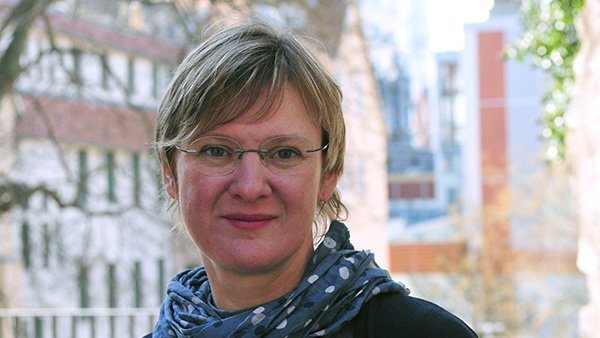 Dr. Gunda Huskobla
Administrative Director
Key activities
Management of the Graduate Academy (jointly with Dr. Hanna Kauhaus)
General information and counselling for doctoral candidates, management of the ombudsman's office
Content and concept of the qualification programme for doctoral candidates and postdocs
Monitoring of the UniWiND/GUAT Office and the project "Linking Graduate Supporting Structures – Natural Sciences in Industry and Society" (Joachim Herz Stiftung)
Active participation in national and international networks (e.g. UniWiND/GUAT, Coimbra Group)
Vita
since 2016: Administrative Director of Graduate Academy
2013-2018: Office Director of UniWiND e.V. / GUAT
since 2011: Member of the Working Group "Doctoral Studies" of the Coimbra Group (since 2019 Chair, 2016-2019 Vice-Chair)
2011-2016: Scientific Coordinator at the Graduate Academy of FSU Jena
2009: Conferral of a doctorate in Economic Sciences (Dr. rer. pol.), EUV Frankfurt(Oder)
Title of the dissertation: "Dynamic and Holistic Models of Corporate Development. Theoretical Analysis and Starting Points for Optimizing the Research Design" (in German)
2000-2002: Student advisor for the degree programme "International Business Administration", EUV Frankfurt(Oder)
1999-2011: Teaching and Research Assistant at the Chair of Management Accounting and Control, European University Viadrina in Frankfurt(Oder)
PhD Scholarship funded by the German National Academic Foundation
1995-1999: Management Studies at the EUV Frankfurt(Oder) and study visit at the University of Stellenbosch, South Africa
degree in Business Administration, scholarship funded by the German National Academic Foundation
Talks and presentations on supporting early-stage researchers (English selection, see also list in German):
"Response, challenge, necessity, driver? A European perspective to the internationalisation of doctoral education in the context of a changing world", IEASA Conference Cape Town, 08/2019 (invited).
"Challenges related to international collaborative programmes in Europe – Can a "one size fits all" approach work?", YEBO! Training Session Cape Town, 06/2019 (invited).
"Membership and Evaluation of Doctoral Programmes in the Graduate Academy", Coimbra Group Montpellier, 10/2018.
"How to promote good doctoral supervision – Recommendations and good practice for universities and doctoral supervisors", EUA-CDE Delft, 01/2016, und Coimbra Group Brussels, 10/2016.
"Postdoc opportunities in academia", Research in Germany, European Career Fair Boston, 2012-2014.
"Supporting young researchers at Friedrich Schiller University Jena", e.g. for international delegations" (USA, Georgia, South Korea), since 2012.
Publications on supporting early-stage researchers (selection):
Gunda Huskobla, Jean-Marie Pincemin: "Doctoral Studies", in: Practices at Coimbra Group Universities in Response to the Covid-19. A Collective Reflection on the Present and Future of Higher Education in Europe, May 2020.
Gunda Huskobla et al. (Hrsg.): Evaluation von Graduierteneinrichtungen. Eine praktische Handreichung. UniWiND-Publikationen Bd. 9, 2019.
Gunda Huskobla, Jörg Neumann et al. (Hrsg.): Doctoral Supervision. Recommendations and Good Practise for universities and doctoral supervisors, UniWiND-Publikationen Bd. 4, German 2014, English 2015, 2. Edition German 2017.
Gunda Huskobla, Matthias Jakob, Jörg Neumann: Doktorandenerfassung an der Friedrich-Schiller-Universität Jena, in: Isolde von Bülow (Hrsg.): Nachwuchsförderung in der Wissenschaft. Best-Practise-Modelle zum Promotionsgeschehen – Strategien, Konzepte, Strukturen. Springer Verlag 2013.
Talks and presentations for students interested in doing a PhD, doctoral candidates and postdocs:
Doctorate – yes or no?
Doctorate and Family
Funding your PhD
Research stays abroad during your PhD
Academic career as an option
PhD, what next? Career perspectives outside academia

Workshops for students interested in doing a PhD, doctoral candidates and postdocs (in German):
BWL kompakt (Fundamentals of Business Administration and Management)
Wie finanziere ich meine Promotion? Die Stipendienfinanzierung (How can I finance my PhD? Applying for scholarship funding)
Tagungsorganisation von A-Z: Wissenschaftliche Veranstaltungen planen und durchführen (Conference organisation from A-Z: Planning and conducting academic events)
Wissenschaftslandschaft und Hochschulen in Deutschland (Academic landscape and universities in Germany)

Memberships and other activities: