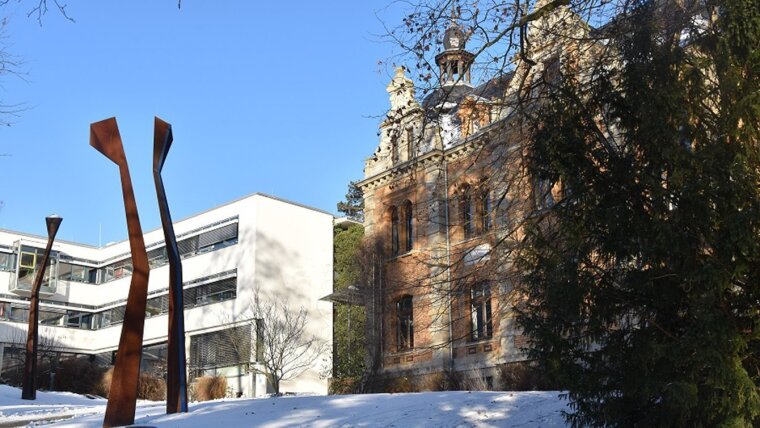 International Max Planck Research School for the Science of Human History
Information about the programme and the application procedure
Sitz des MPI Human History
The International Max Planck Research School for the Science of Human History (IMPRS-SHH) was founded in 2018 as a PhD programme of the Max Planck Institute for Human History and Friedrich Schiller University. Supported by leading experts, young scientists will find ideal conditions for interdisciplinary research in Human History (including genetics, archaeology, linguistics, and cultural studies, social and behavioral studies) that combines natural and social science methods. Modern laboratories, field research or databases enable new approaches and insights.
The IMPRS-SHH is focused on interdisciplinarity and emphasises independent research carried out by the PhD students. Its training programme rests on a largely flexible, yet structured curriculum, which is based on three pillars of learning: the "Mentoring Programme", the "Scientific Programme" and the "Transferable Skills Programme".
The study programmes are certified on the basis of the European Credit Transfer and Accumulation System (ECTS), meaning that all PhD students receive a certificate detailing their coursework and corresponding number of ECTS earned.
Scientific Keywords
Animal cognition, cognition, communication, DNA, domestic dogs, historical comparative reconstruction, isotope analysis, language evolution, palaeoenvironments, proteomics, quantitative linguistics, spatial modeling
Participating Faculties of FSU Jena
Faculty of Arts, Faculty of Biological Sciences, Faculty of Chemistry and Earth Sciences, Faculty of Social and Behavioural Sciences
Cooperation partners
MPI Chemical Ecology, MPI Biogeochemistry, Hans Knöll Insti­tute, Center for Molecular Biomedicine, Michael Stifel Center, MPI Evolutionary Anthropology (Leipzig), MPI Social Anthropology (Halle), Max Planck Harvard Research Center for the Archaeo­science of the Ancient Mediterranean (Harvard), FSU Jena
Preferred language
English
Current number of doctoral candidates
approx. 50
How can I become a doctoral candidate? What is the method of selection?
Applications for admission to the IMPRS for the Science of Human History can only be made in response to a call for applications or on recommendation. The selection process consists of online interviews and a selection symposium.
Are there fixed dates to apply?
There will be a call for applications in Autumn 2019. Check the IMPRS website for more details.
Are there possibilities to be funded in this programme?
The IMPRS provides paid contracts for doctoral candidates.
Interesting for graduates of the following subjects:
Anthropology, archaeology, bio computing, earth
sciences, genetics, linguistics, psychology, zoology
Prospective degree
PhD / Dr. phil. / Dr. rer.nat.
Contact
Dr. Bettina Bock & Dr. Sabine Ziegler
imprs.humanhistory@shh.mpg.de
https://www.shh.mpg.de/1149003/imprs-shh