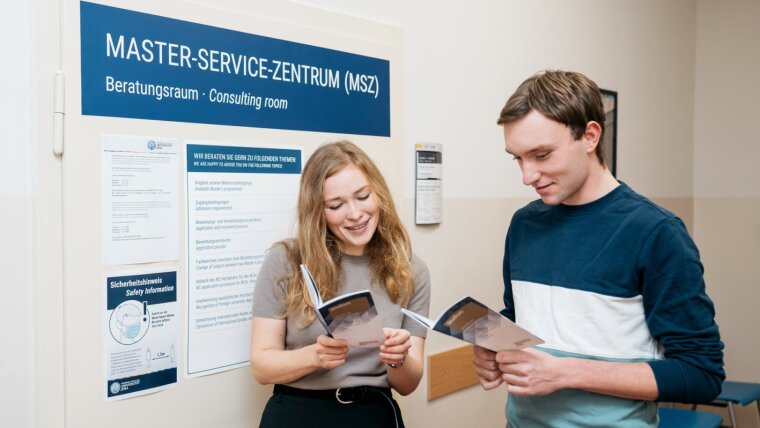 Consulting services
Advice and support on applications for master's degree programmes
Prospective students read the brochure on the range of courses
Information
Are you interested in studying a master's programme at the University of Jena? Do you have any questions about the application process or the admission requirements for master's studies at our university?
Contact us to ask any questions, submit your application or enrolment documents and get the support you need during the application and admission process.
Tuesday, Wednesday, Thursday           2 p.m. - 3 p.m.
Universitätshauptgebaeude  
Fürstengraben 1  
Schlossgasse Entrance
Room 3.07 (3rd floor)
Tuesday, Wednesday, Thursday             9 a.m. - 11 a.m.
You can reach us at +49 3641 9 411 555.
Regular Zoom Meeting: Tuesday, Wednesday, Thursday             3 p.m. - 4 p.m.
Zoom consultationExternal link
You can reach us during this time via the link above. The password is Master.
Consultations via chat cannot be offered on Friday, 1st December.
Monday and Friday    10 a.m. - 12 p.m.
Chat with us! As soon as the chat symbol appears at the bottom right of the screen, our experts are available to chat with you. Please note: If the symbol is not visible, the chat option is currently not available. Chatbox de
Response times can vary depending on the amount of chat inquires. Please be assured that the next available chat agent will process your chat request as soon as possible. 
Submit your query via Service Desk
Please direct your question (+ applicant number if available) via Service Desk. We will process your request as quickly as we can.
www.uni-jena.de/service-mszExternal link de
You do not know how to access the portal? Please visit the  Service Desk Portal information page to learn more.
Please use our letterboxes in the corridor near room 3.07 or in front of the university main building if there are access restrictions (University Post Office Universitaetshauptgebaeude / Deadline letterbox at the entrance Schlossgasse).
Postal address:
Friedrich Schiller University Jena
Master Service Centre
07737 Jena
Wabersich, Henning

Head of Master Service Centre

Division 1

Universitätshauptgebäude, Room 3.08
Fürstengraben 1
07743 Jena

Dannenberg, Andrea

Assistant Head of Master Service Centre

Division 1

Universitätshauptgebäude, Room 3.02
Fürstengraben 1
07743 Jena

Jähnert, Veruschka-Meike

Staff Member, Master Service Centre

Division 1

Universitätshauptgebäude, Room 3.02
Fürstengraben 1
07743 Jena

Müller, Katharina

Staff Member, Master Service Centre, Project Management HISinOne

Division 1

Universitätshauptgebäude, Room 3.02
Fürstengraben 1
07743 Jena