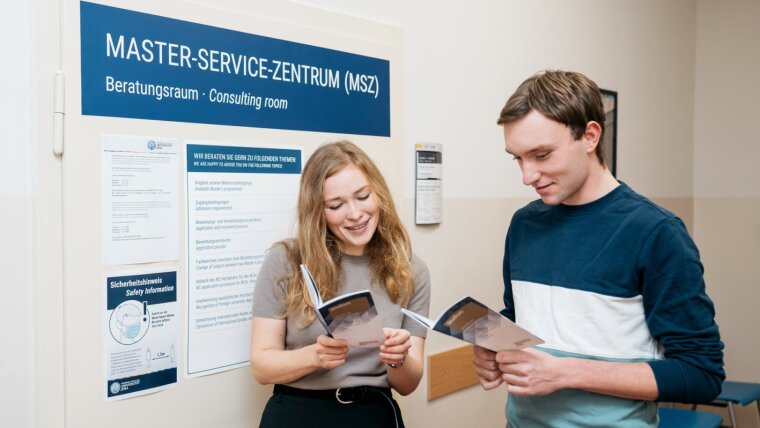 Consulting Services
Support of applications for a master's degree programme
Prospective students read the brochure on the range of courses
Information
We offer consultations and the handling of your concerns in person as well as by phone, Zoom, live chat, Service Desk and post.
Tuesday, Wednesday, Thursday           2 p.m. - 3 p.m.
Please note the current information on the coronavirus.
Universitaetshauptgebaeude  
Fuerstengraben 1  
Entrance Schlossgasse  
Room 3.07 (3rd floor)
Consultation hours by PHONE
Tuesday, Wednesday, Thursday             9 a.m. - 11 a.m.
You can reach us calling +49 3641 9 411 555.
Consultation hours by ZOOM

Regular Zoom Meeting: Tuesday, Wednesday, Thursday             3 p.m. - 4 p.m.
You can reach us via this link. The password is Master.
In addition to that, you can book individual appointments for Zoom Mondays between 1-4 PM and Fridays between 1-3 PM. Individual appointments outside these slots can be made on request. Please contact us well in advance via phone, chat or email for appointments.
Monday and Friday    10 a.m. - 12 p.m.
Chat with us! As soon as the chat symbol appears at the bottom right of the screen, our experts are available to chat with you. Please note: If the symbol is not visible, the chat option is currently not available. Chatbox de
Response times can vary depending on the amount of chat inquires. Please be assured that the next available chat agent will process your chat request as soon as possible. 
Service Desk
Please direct your question via the Service Desk. We will process your request as quickly as we can.
www.uni-jena.de/service-msz de
You do not know how to access the portal? Please visit the  Service Desk Portal information page to learn more.
master@uni-jena.deWe will process your request as quickly as we can. Please note that enquries via E-Mail will no longer be processed from 11 March 2022. Please use our Service Desk from that date onwards: Service Desk de
Information on the portal and how you can access it you will find here: Information on our Service Desk
Please use our letterboxes in the corridor near room 3.07 or in front of the university main building if there are access restrictions (University Post Office Universitaetshauptgebaeude / Deadline letterbox at the entrance Schlossgasse).
Postal address:
Friedrich Schiller University Jena
Master Service Centre
07737 Jena