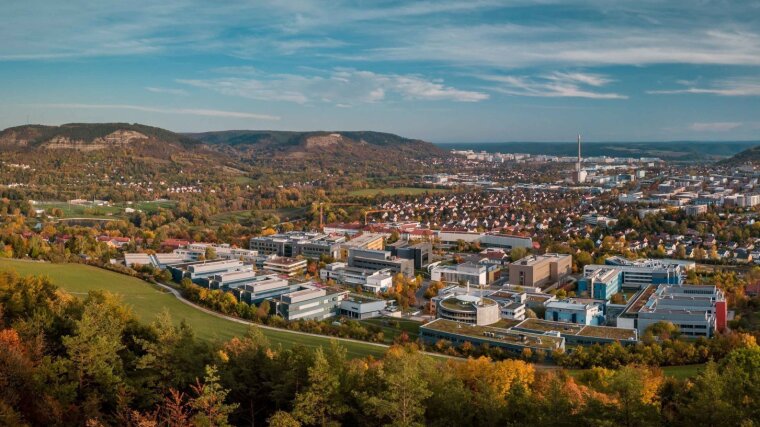 RI4C2
Research and Innovation for Cities and Citizens
View of the Beutenberg Campus
RI4C2 - Research & Innovation For Cities & Citizens
The seven universities composing the European Universities Alliance "EC2U" are again joining forces to extend the activities of the EC2U Alliance to the Research and Innovation fields. The project is funded under the European Commission's Horizon 2020 "Science with & for Society" call.
In this project, the seven partners have the joint overall objective to create a shared Pan-European Knowledge Ecosystem (PEKE). The project will develop a process that involves a gradual and adaptative transformation of all aspects of the Research & Innovation (R&I) missions at the participant universities. This will include developing a research and innovation agenda and platform, offering workshops on the topic of people empowerment, and investigating which factors promote the development of a functioning knowledge ecosystem.
RI4C2 Arbeitspakete und Aktivitiäten
RI4C2 is divided into eight work packages (WP):
WP1 "Transformation management", Leitung: Universität Poitiers
WP2 "EC2U R&I agenda", Leitung: Universität Salamanca
WP3 "EC2U People empowerment", Leitung: Universität Coimbra
WP4 "EC2U R&I platforms", Leitung: Universität Pavia
WP5 "EC2U Innovation sphere", Leitung: Universität Jena
WP6 "EC2U Knowledge ecosystems", Leitung: Universität Iasi
WP7 "Open EC2U", Leitung: Universität Turku
WP8 "Transformation dissemination", Leitung: Universität Poitiers
The University of Jena is spearheading activities in the field of innovation. "In our work package 'Innovation Sphere', we want to create offerings to further bring together the spheres of science, business and urban society," explains Dr. Dana Strauß of JenaVersum. Plans include networking the research and transfer institutions of the European partners, discussing the conditions for innovation to succeed and publishing them in a joint "cookbook for innovation". A university- and city-wide makeathon on the topic of "Reinvent the Future" is planned for 2023, where all interested parties can contribute their own ideas.
Hillinger, Claudia, Dr

RI4C2 Projektleitung

Universitätshauptgebäude, Room 2.66

Fürstengraben 1

07743 Jena

Strauß, Dana, Dr

RI4C2 Innovation Sphere

Room 003

Zwätzengasse 3

07743 Jena

Roderfeld, Eleonore

RI4C2 Projektkoordination

JenTower, Room 3.13

Leutragraben 1

07743 Jena