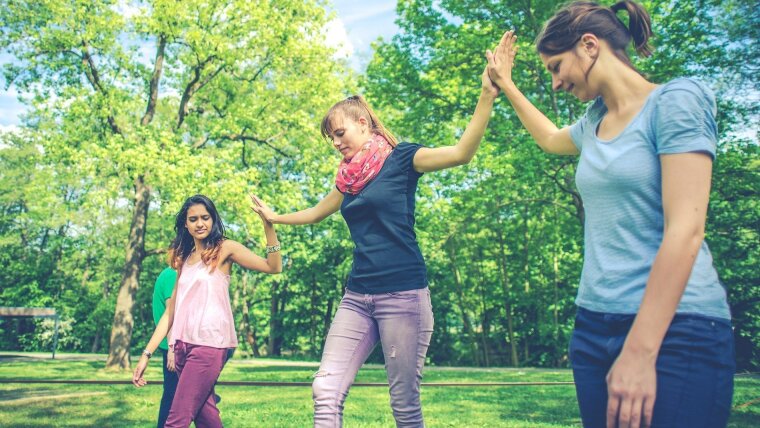 Living in Jena
Living, working, free time –​ information for international students on life in Jena
Jena - a paradise for students
"Student life is simply wonderful in Jena." One of many positive opinions expressed by international students in Jena in the International Student Barometer. Familiarize yourself with the key parts of student life in the categories below.
Accommodation

We recommend that all international students apply for a room in a dormitory parallel to applying for studies.

The student services organization Studierendenwerk Thüringen manages 21 halls of residence in Jena with a total of 3,000 places. There are a few individual apartments, however, most students stay in single rooms in shared flats with between one and eight other students, who share a kitchen and a bathroom.

The rent (approx. €200–350 per month) is fixed for a period of 6 months. This means that you have to pay higher monthly rent for a shorter period of use. The Studierendenwerk requires a deposit of €300 after concluding the tenancy agreement.

The application deadlines for international students are 15 January and 15 July for the following semester. However, as there are only a few rooms available, apply as soon as possible. Please do not forget to confirm your application and to accept the offer of a room by e-mail.

The monthly rent is due on the 3rd working day of the respective month. Students must submit a SEPA direct debit mandate (German or SEPA-compliant European account). International students without such an account have to transfer the first rent and deposit in advance, from the 2nd rent on a SEPA direct debit mandate is required. Cash payment on site is not offered. Please see the general regulations.

Private rooms, flats, shared flats
It is difficult to find a private room in Jena from abroad. We advise looking in neighbouring towns and cities, too (Weimar, Erfurt, Kahla, Gera, Apolda). It is best to do so using the Internet. There are many information boards in the university buildings displaying available rooms and flats. Please take note of our advice  [pdf, 349 kb] de on looking for accommodation and life in Jena in general.

Costs of and financing of studies

There are no tuition fees at the Friedrich Schiller University Jena. You just pay a small fee for courses in the language centre and sports centre, which are not on the curriculum.

All students have to pay a semester fee for the administration of the student body and the Studierendenwerk (approximately €240). This semester fee covers the use of local public transport in Jena and in Central Thuringia, and local trains throughout Thuringia for the entire semester. Students also pay far less for food in the canteen and cafeteria when they use their student ID.

Money is mainly needed for accommodation, food, health insurance, books, clothing, and personal things. We recommend you a budget of €700‒770 per month for everything.

€0 tuition fees
€40 semester fee with semester ticket (monthly)
€250 rent (can be higher)
€200 food
€50 clothing, shoes
€30 books, copies
€100 health insurance
€30 telephone, Internet, TV and radio licence fee
€50 free time (individual)

Please take note of our advice on financing your studies, e.g. by working.

Working

There are a few job opportunities in Jena. You should have at least good command of German in order to work.

When looking for a job, please observe the requirements of the German Immigration Law: non-EU citizens whose main reason for staying in Germany is studying can only work for 120 days (or 240 half-days) per year without a special work permit. This does not apply for work as a student assistant ("studentische Hilfskraft") or graduate assistant ("wissenschaftliche Hilfskraft").

Accept a work offer only if you have an employment contract and your employer is also paying social security contributions for you. Those working illegally may be liable to prosecution.

Get advice and more information at the Career Point!

Visa and residence permit

Travel to Germany without a visa

EU citizens and citizens of Australia, Brazil, Canada, El Salvador, Honduras, Iceland, Israel, Japan, Liechtenstein, Monaco, New Zealand, Norway, San Marino, South Korea, Switzerland, United Kingdom and the USA. Please also note the information below (After arriving in Germany).

Only travel to Germany with a visa

Citizens of all countries other than those stated above have to apply for an entry visa for study purposes from the embassy of the Federal Republic of Germany in their current country of residence before leaving. Submit the proof of admission you have received from the University with the visa application approximately two months before the beginning of the study programme. Do not travel to Germany with a tourist visa, a Schengen visa or a residence permit from another EU member state because these cannot be converted into student visas in Jena.

Special registration process for guest students/students of double-degree master's programmes who


are not an EU citizen and you study at a partner university within the EU, and
have a student residence permit from one of the EU members which is valid longer than the planned guest stay in Germany (max. 360 days),

please refer to our information [pdf, 122 kb] de and fill in the registration form [pdf, 26 kb] de as well as the proof of financial means. [docx, 15 kb] de

After arriving in Germany

All students have to register with their local residents' registration office.

All non-EU citizens also have to register with the Immigration Office of their place of residence if their residence permits are not valid for long enough. Students from non-EU countries then have to apply for an electronic residence permit for study purposes (fee is approximately €110). These students receive a certificate of study for the Immigration Office from the University after enrolling. All foreign students have to be able to prove how they are about to finance their stay in Germany. Proof of financing must be provided to the immigration office if necessary (this also applies for EU citizens). This proof should be issued and signed by your funding institution, your home university or your parents (or other private sponsors).

Please take note of the advice given by the German embassy in your country of residence and the Jena Immigration Office.

Those wishing to work as well as study also have to follow the rules regarding the right of residence. Find out more information here.

Health insurance and other types of insurance

Health insurance

Prior to final enrolment, all students must provide evidence of valid health insurance for the duration of their studies.

Please see our information for

Please note that the International Office of the Friedrich Schiller University Jena does not accept any foreign, private travel insurance or emergency cover as student insurance. Although these are often necessary to apply for a visa in your home country and are also useful for your arrival and departure, they are not sufficient forms of full, proper health insurance. If you have any questions, please contact the International Students department of the International Office.

Other types of insurance

The semester fee includes a premium for accident insurance. In all university buildings, on the way to and from the University, at University's events, and during sports and leisure activities related to the University students are therefore covered by insurance. We strongly recommend taking out a private liability insurance for your personal life after arriving which will cover costs of damages to other persons's belongings.

Further information about the German health care system [pdf, 3 mb] de

Radio/TV licence fee ("Rundfunkbeitrag")

Everyone has to pay a monthly fee for German public radio and television. You even have to pay the fee if you do not own a radio or television or if you never listen to a public radio or watch a German television. There are only a few exceptions, e.g. those who receive a grant under the German Federal Training Assistance Act (Bundesausbildungsförderungsgesetz, BaföG).

Those living in a shared flat (including in halls of residence) can split the fee with their flatmates. Register as soon as you arrive in Germany. You can find more information on registering under licence fee.

Intercultural Café, workshops, international campus life, free time

The International Office invites you to the Intercultural Café and workshops which give you the opportunity to network and get some tips. Find out more about free time events and opportunities here .

Support for international students

It is very important to the Friedrich Schiller University Jena to provide good advice and support to its international students. Your academic success is important to us! You will find knowledgeable people to turn in the faculties and institutes, as well as in the administration department, who are always willing to help, also regarding social aspects. Immediately after your arrival and during your course, too, we offer you support, for example within the mentoring programme. If you experience difficulties, you can always turn to the International Office or to our ombudspersons.