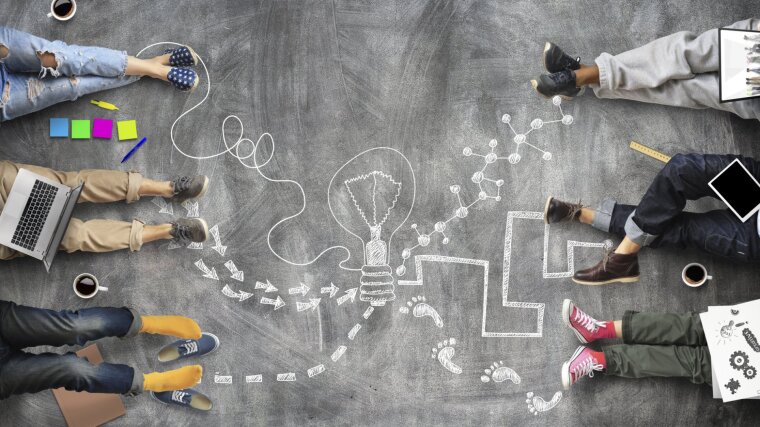 Founding
Support services for founders
Teamwork of the staff, creative and friendly atmosphere
Initial consultation
Do you have questions about your business idea? Would you like to get an overview and find out about support offers and funding opportunities? You want to hear our opinion about your idea? Would you like some guidance on how to structure the start-up process and which steps you should take next?
Then arrange a personal consultation with us.
From the idea to the sustainable business model
You have a business idea but are still working on a convincing business model: To whom should which product be offered? What does the market look like? And how can you sell it profitably? What do you need for production?
We work with you on a viable business model and thus create the central prerequisite for getting down to practical implementation.
Rooms and infrastructure
A business idea needs a space and a stimulating environment in which it can develop further. At the Friedrich Schiller University Startup Center you will find both:
free, fully furnished office space with 2-3 workstations or individual coworking spaces
uncomplicated use of the conference room for team meetings, workshops or meetings with external partners
exchange with other founders
intensive support by the start-up consultants in the immediate vicinity
Applications for a room / workspace in the Startup Center and inclusion in our "Freiraum" support package are possible at any time. You can find more information here.
Financing
Preparing a startup takes time and money. Often, a viable business model and a marketable product have yet to be developed. How can the livelihood be secured and the (product) development financed during this phase?
There are a number of government funding programs for this purpose. Particularly for very innovative start-up ideas and those that arise from research activities and require longer development times, the federal government offers extensive funding opportunities, e.g. EXIST, VIP+, GO-Bio, GO-Bio initial.
We support you in your search for suitable funding and in the application process. For innovative business ideas that are still in their infancy, the university's internal support program "Next Step" offers concrete financial support and the use of further resources.
Networking
You can't do it without the right contacts. You will build and continuously expand your personal network. Benefit from our network. In a series of events, you will have the opportunity to exchange ideas with other founders and get to know other startup supporters, consultants, coaches and potential financial backers. Or we try to arrange suitable contacts directly.
Please contact us.
Piontek, Matthias

Start-up Consulting I Coordination Thuringian University Start-up Network

Kahlaische Straße 1

07745 Jena

Schindek, Ralf

Start-up Consulting

Kahlaische Straße 1

07745 Jena