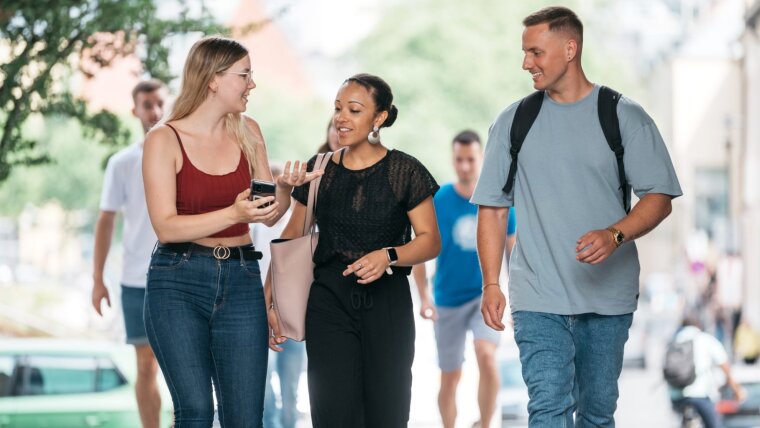 Starting your studies
Arrive – Adapt – Advance
Students on the way to campus
Tutor-led workshops on "arriving"

Reflection workshops: "Arrive" (with student tutors)
– in November and May this year –

How have I got here?
What should I know about the organization of my study programme?
Exam registration and preparation
Learning methods
Any other questions

The tutor for your course will be announced in the Study Programme Database de.

--------------------------------------------------------------------------------------------------------

The following event is aimed at first-semester students enrolled on the courses:

Art History and Film Studies
German as a Foreign Language / German as a Second Language / German as a Foreign Language – Teacher Training
Intercultural Business Communication
Cultural Anthropology / Cultural History
Workshops on "adapting"

– in January and May –


After your first few months at university, it is time to take stock:

What is going well? What is not going too well?
Where am I going with my studies?
Do I have any problems or questions? Who can help me?
Is my study programme right for me?
How should I deal with any doubts?

We can answer all these questions together.

If you would still like to speak to someone, you can make an appointment with the Central Student Advisory Service (Tel.: +49 3641 9‑411111 ; Service DeskExternal link).
Workshops: "Advance"

– in May and November –

Expanded focus on relevant issues in the middle phase of study programmes:

Studying in the pandemic
Stay abroad
Internships
Thinking about future professions
Changing courses

The number of participants is limited to 12 people. Registration is necessary.

Registration
Library tours and courses
Courses for study methods and techniques
Central Student Advisory Service
University Main Building / SSZ
Fürstengraben 1
07743 Jena
Office hours:
We offer consultations and the handling of your concerns in person, via video chat or telephone. Appointments can be made by phone or via service desk.

Consultation hours:
Monday, Tuesday, Thursday and Friday from 9:00 to 12:20, Tuesday 14:00 to 18:00 and on Wednesday and Thursday from 14:00 to 16:00.
Video chat:
Monday to Friday 12.30 to 13:00
ZSB2020