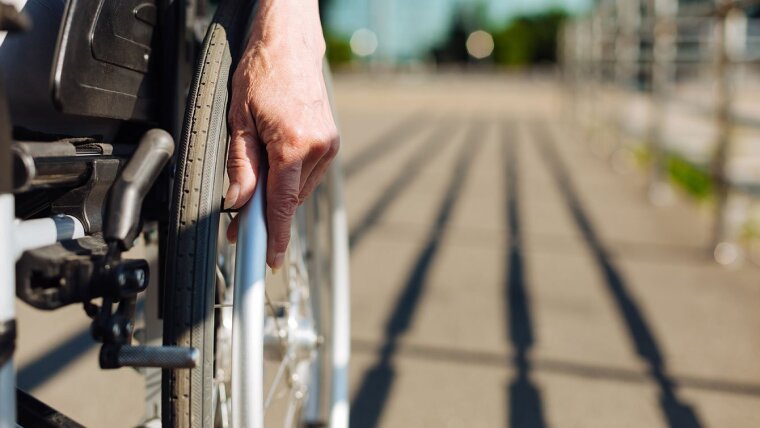 Postdocs with disabilities
Information on participation benefits and contact persons​ at the Friedrich Schiller University Jena
Person sitting in a wheelchair
Postdocs with disabilities or chronic illness face special challenges in their qualification. The Friedrich Schiller University Jena supports you by providing information, counselling and by finding contact persons.
Financing of disability related additional needs

People with disabilities or chronic illnesses who wish to pursue a postdoc are confronted with special challenges. This concerns especially the financing of the additional needs caused by disability.

In principle, support for people with disabilities differs according to the form of postdocs:

In the case of a postdoc within the framework of an employment contract, it is possible to claim benefits for participation in working life, e.g. workplace adjustments or assistantships. The financing of these disability-related additional needs is provided by the employer.
In the case of a postdoc within the framework of a scholarship, disability-related additional requirements are not usually financed by the scholarship provider. The Deutsche Forschungsgemeinschaft (German Research Foundation) is the only exception to this rule and covers the costs if no other support is available.
In the case of a postdoc without an employment contract or a scholarship, disability-related additional requirements are normally not financed.

Within the framework of the Federal Participation Law, a free advisory service on rehabilitation and participation services was also created: the "Supplementary Independent Participation Advisory Service". This is offered by the regional association "Interessenvertretung Selbstbestimmt Leben in Thüringen". You can find further information hereExternal link (in German).
Accessibility at Graduate Academy

The Welcome and Service Desk for Doctoral Candidates and Postdocs is not wheelchair-accessible and not barrier-free. That's why we also offer you consultation meetings outside the office. Feel encouraged to contact us for an appointment.

The Graduate Academy makes every effort to ensure that all postdocs can take part in its qualification programmeExternal link. Unfortunately, not all venues at Jena University are accessible to people with disabilities. If you wish to participate in the Graduate Academy's qualification programme, please contact us to check whether the room in question allows wheelchair access.
Rooms with barrier-free access at the Friedrich Schiller University Jena

Unfortunately, not all rooms of the Friedrich Schiller University Jena are barrier-free. A list of the barrier-free accessible rooms can be found herepdf, 126 kb · de (in German, as of November 2020).

If you want to attend an event in a room that is not accessible without barriers, there is the possibility to book a stair lift for the access to the event. Please contact the room administration (raumverwaltung@uni-jena.de).
More information
Contact persons