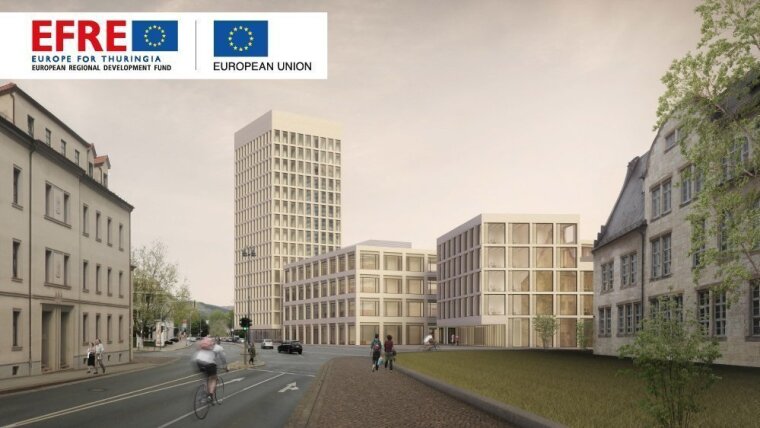 A campus for everybody
The Inselplatz Campus will be a place for research, teaching, meeting and communication
A modern, new university campus has been under construction on Inselplatz since March 2020. Four larger building structures will be erected in the heart of Jena. The Institute of Psychology will have its place here, as will the Faculty of Mathematics and Computer Science, a branch library of the Thuringian University and State Library (ThULB) "Natural Sciences and Preclinical", as well as a cafeteria and the new University Computer Centre. This was preceded by a two-stage open architectural competition for the four buildings, the multi-storey car park and the outdoor facilities, jointly organised by the city and the Free State. Two Dresden-based firms, CODE UNIQUE Architekten BDA and QUERFELDEINS, prevailed among the 89 international applicants. Their award-winning design for the Inselplatz campus will now be realised.
The client is the Free State of Thuringia, represented by the State Office for Building and Transport, and the user is the Friedrich Schiller University of Jena. The total volume of the buildings is around €190 million, of which the buildings of the Faculty of Mathematics and Computer Science and the Computer Centre are co-financed with around €84 million from European Union funds within the framework of the European Regional Development Fund ("Europäischer Fonds für Regionale Entwicklung", EFRE). This makes the Inselplatz the second largest university building project in Thuringia after the Jena University Hospital. 

The ceremonial laying of the foundation stone took place on 7 September 2020, and the EU-funded buildings are scheduled for completion by 2023. The other buildings will follow by 2025. A time capsule was buried on the occasion of the foundation stone laying. It contains a face mask from the University, the English edition of LICHTGEDANKEN No. 7 de "Future without Growth", a music box with the "Ode to Joy" from the city as well as daily newspapers and coins from the country.
On 25 April, the topping-out ceremony took place as planned – another milestone of the major construction site has been reached. Among the numerous guests were the Minister of Science Wolfgang Tiefensee, the Minister of Infrastructure Susanna Karawanskij, the Lord Mayor Dr. Thomas Nitzsche and Hans-Karl Rippel, President of the State Office for Construction and Transport. All those present were able to see for themselves the progress of the new building and gain an impression of the future Campus Inselplatz.
Image: CODE UNIQUE Architekten BDA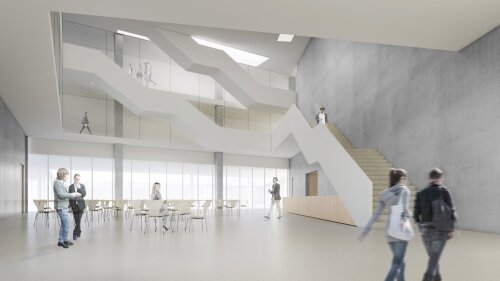 Lecture Hall Foyer of the Faculty of Mathematics and Computer Science
The foyer of the Faculty of Mathematics and Computer Science houses a coffee point between the lecture hall and the stairway to the seminar rooms.
Thüringer Landesamt für Bau und Verkehr
Hallesche Straße 15/16
99085 Erfurt
Postal address:
Postanschrift:
PF 80 03 53
99029 Erfurt
Project team 'Inselplatz Campus'