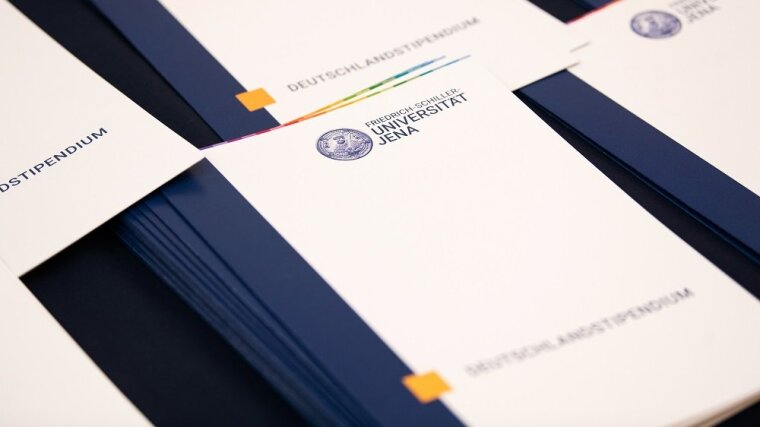 Deutschlandstipendium
Supporting young talent
Deutschlandstipendium folders
Prof. Dr. Walter Rosenthals statement
»Guiding young people through their education and preparing them for the challenges presented by society and the labour market are important and worthwhile investments in the future, and the Friedrich Schiller University Jena is committed to the cause.
That is why our University has decided to participate in the Deutschlandstipendium—the scholarship programme run by the federal government. The Deutschlandstipendium gives you the opportunity to support outstanding and committed students in a targeted manner and assist them in their personal and professional development.

Your commitment will allow them to concentrate on their studies and kick-start their career. You will also help to strengthen our network of science, business, and society, which is becoming increasingly important to keep the best people in the region and drive Jena's development as a hub for science, industry, and business.
Let's take responsibility and help promising students unlock and develop their skills.«


Yours faithfully,

Prof. Dr Walter Rosenthal
President of the Friedrich Schiller University Jena
Deutschlandstipendium
University Main Building
Fürstengraben 1
07743 Jena
Postal address:
Friedrich Schiller University Jena
Dezernat 1 – Studierende | Division 1 – Student Affairs
Weiterbildung | Further Education
Fürstengraben 1
07743 Jena
Germany