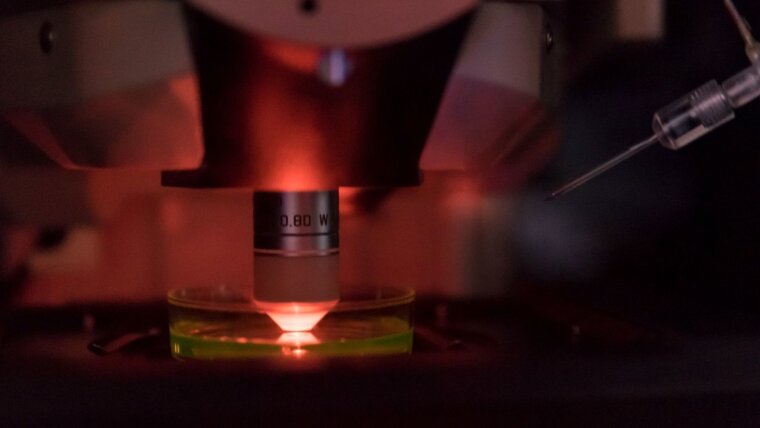 Medical Photonics
Study information
Undergraduate degree or equivalent

For this master's programme you need a subject-specific undergraduate degree (minimum 6 semesters/180 ECTS-Credits) or an equivalent degree.

​The overall grade (CGPA) of the bachelor's degree must be GOOD or better (German and US systems: 2.5).
Language requirements

This master's programme requires the following language proficiency:  

good English language proficiency (a direct proof by certificate is not compulsory)
CV

Your CV should have a tabular form, containing key information on your school record and academic career.
Motivation letter

A motivation letter should not exceed the size of two DIN A4-pages and normally, it should contain information on your motivation for taking up this course of studies. You should  elaborate on the following essential questions:

Why do you desire taking up this specific course of studies?
What are - in your opinion - the main features that this course of studies excels in?
Which features of this course have inspired your application? 
Why Jena?

 
University entrance qualification certificate

Please upload at the online application system your university entrance certificate/school leaving certificate. Usually, this means the school graduation diploma (German "Abitur"), i.e. the diploma that makes you eligible for studies at an University or other institution for higher education. Be mindful of the fact that here, we do not need any University diploma but a High School diploma! 
Previous university degrees earned

All previous University degrees (Bachelor of Arts, Bachelor of Science, etc.) if available before the application deadline - if not, please make a note of the anticipated date of issue of your degree certificate. Please upload your University degree or the most actual, detailed transcript of records/ mark sheet of all semesters available to you, should you not hold your degree certificate at the time of application. The main document is the degree/ transcript based on which you apply for the master programme.
Corresponding transcripts

Detailed transcript of records/ mark sheet of your first, subject-specific University degree, with which you apply for the master's programme (minimum requirement is the transcript/mark sheet up to the semester before the last). This trancript MUST contain an overall cumulative grade point average or average mark.

You need at least 140 credits (ECTS) by the time you apply.
Proof of relevant work experience

Should you have obtained subject-specific work experience, you can upload corresponding certificates in order to support your application. 
Proof of subject-specific practical experience

Should you have obtained subject-specific practical experience (e.g. by internships etc.), you can upload corresponding certificates in order to support your application. 
Translation of foreign/external application documents

Every mandatory application document from foreign/external countries must also be available in either English OR German translation. Such a translation has to be conducted by officially acknowledged/ sworn translators or translation offices.
Proof of grading system

External/foreign degree certificates/ transcripts of records must contain information on the grading system (= description of the maximum grade possible and the minimum passing grade) used at the respective University. 
Certificate APS

Applicants with degrees from India, Vietnam or China must submit the original APS-certificate issued by the German Embassy.
University entrance exam

Applicants from the following countries must submit a certificate of their university entrance examination/college entrance examination:

Iran (College entrance examination certificate or certificate of pre-university course/year)
Republic of Korea/South Korea: SAT (Scholastic Ability Test)
People's Republic of China: College entrance examination certificate ("Gaokao")