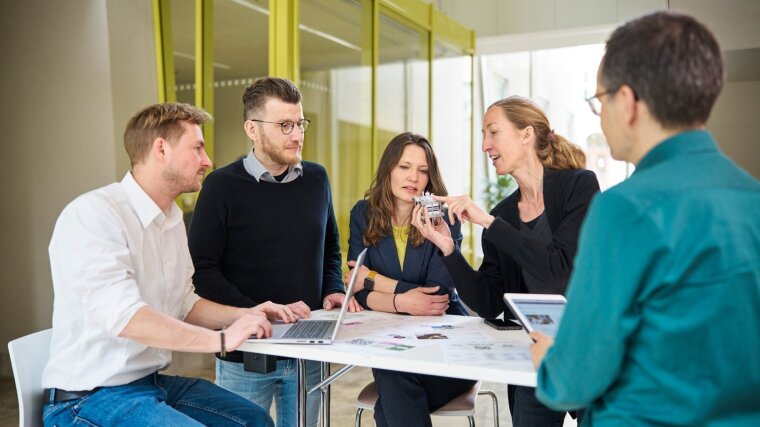 Excellence Strategy
How the University of Jena strengthens its cutting-edge research
Five researchers have gathered around a table and are discussing a redox flow battery.
One of the oldest universities in Germany, the University of Jena's was founded in 1558 in the spirit of the Reformation. The University of Jena has since shaped major literary periods, inspired new fields of research and industries, and overcame political appropriations.
Today, following the motto "Light, Life, Liberty – Connecting Visions", the University of Jena has established a dense network of national and international cooperation. It attracts scholars, scientists, and students of all disciplines from around the world. Together with its local and international partners, the University of Jena has achieved research excellence in its key profile research areas. In this respect, the University's Cluster of Excellence "Balance of the Microverse" (funded since 2019) represents a hallmark project.
Information
The Excellence Strategy adopted by the federal and state governments in 2016 promotes cutting-edge research at German universities. The aim is to sustainably strengthen Germany's position as a centre of science in international competition. The funding initiative is not only intended to enable top scientific results, but also to sharpen the profiles of the participating universities and provide impetus for cooperation in the science system.
There are two funding lines – the Clusters of Excellence, executed by the German Research Foundation (DFG), and the Universities of Excellence, executed by the German Council of Science and Humanities (WR).
Image: Anna Schroll
The University of Jena is participating in the current call for proposals of the Excellence Strategy of the German Federal and State Governments with three new excellence cluster initiatives originating from the LIGHT and LIBERTY profile areas:
Office of the Vice-President for Research
Universitätshauptgebäude, Room 1.23
Fürstengraben 1
07743 Jena