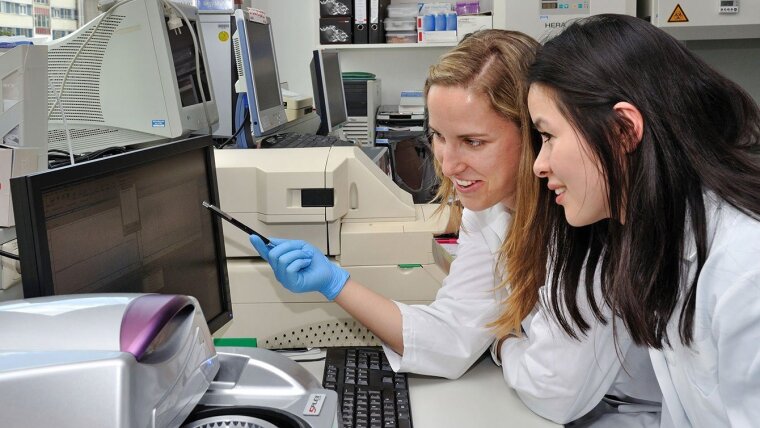 Graduate Programme "Experimental Medicine" of the Interdisciplinary Centre for Clinical Research
Information about the programme and the application procedure
Zwei Forscherinnen blicken auf Bildschirm
The Interdisciplinary Center of Clinical Research of the Jena University Hospital (IZKF) promotes clinical and basic research thereby strengthening the major research topics of the medical faculty and allowing the development of new research areas. The graduate programme "Experimental Medicine"External link is part of the IZKF promotion programme for young scientists. It is open to doctoral students of life sciences and medicine coming from different research groups of the Medical Faculty and provides a diversified curriculum and supervision programme of high standard.
The qualification programme familiarizes students with up-to-date topics of molecular and experimental medicine and modern laboratory techniques. It includes a lecture series, which is dealing with the pathogenesis of immunological, inflammatory, oncological and neurological diseases and provides insights into models and laboratory techniques of modern molecular medicine. In addition, method courses are offered, which focus on advanced molecular biology techniques, imaging techniques, electrophysiological methods and functional, morphological and behavioural studies in animals, and teach students how to apply these methods to investigations of molecular disease mechanisms. Language and soft skill courses, including the training of communication, presentation, and public speaking, will also be provided.
The doctoral studies are supervised by a thesis committee and documented in annual research reports. The participants of the graduate programme will further have multiple possibilities to gain additional knowledge while attending research group-specific events, lectures of guest speakers as well as local, national and international workshops and conferences. An intensive scientific exchange with experts from the respective research fields including placements in host labs is also part of the programme. The aim of this graduate programme is to develop doctoral students into competent young scientists who will prospectively address topics of experimental medicine in clinical and basic research studies in a collaborative and successful manner.
Scientific key words
Experimental medicine, molecular medicine

Participating Faculties
Faculty of Medicine

Preferred language
English

Current number of doctoral candidates
40

How can I become a doctoral candidate? What is the method of selection?
The doctoral candidates will be selected by the respective principal investigators on the basis of scientific excellence and potential. Prerequisites for being accepted in the graduate programme is the submission of a thesis project including a working programme as agreed with the academic supervisor and a supervision agreement signed by the doctoral student, the supervisor and the members of the thesis committee.

Are there fixed dates to apply?
No.

Are there possibilities to be funded in this programme?
The IZKF advertises doctoral fellowships for medical students twice a year (January/June). During the annual Summer School Molecular Medicine a PhD fellowship is awarded.

Interesting for graduates of the following subjects:
Life sciences /medicine
Degree
Dr. rer. nat (PhD), Dr. med
Contact
Prof. Dr. Regine Heller
Institute of Molecular Cell Biology
Center for Molecular Biomedicine (CMB)
Jena University Hospital
Friedrich Schiller University of Jena
Hans-Knöll-Strasse 2
D-07745 Jena
Germany
Phone: +49 (0) 3641 9395633
Fax: +49 (0) 3641 9395602
Email: regine.heller@med.uni-jena.de
Internet: http://www.izkf.uniklinikum-jena.de/Graduierten_Programm.htmlExternal link