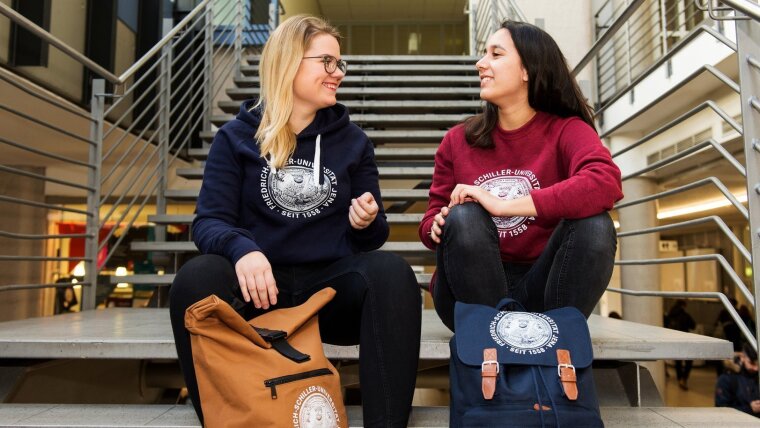 Beginning of your studies
Manage your studies well from the outset
Students in the university
Illustration: macrovector/Freepik, bearbeitet von Susanne Bukatz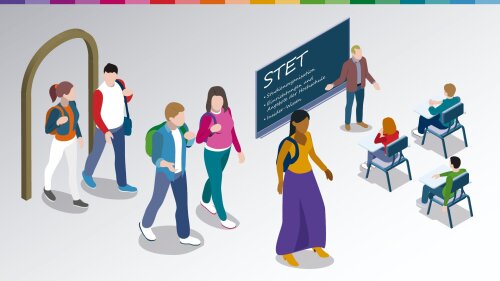 Orientation Days
To answer all questions, we organize the Orientation Days at the University Jena. You will receive general and subject-specific information on the organization of your studies and you can make yourself familiar with offers and facilities of the University, and get insider knowledge from advanced fellow students in your subject.
Enrolment

Study programmes without admission restriction: If you submit your application for enrolment

External link

completely and in time, and if it is positively assessed, you are enrolled immediately. As a means of confirmation, you will receive the thoska card

External link

(short for Thüringer Hochschul- und Studierendenwerkskarte)—your student ID—in time, but usually not earlier than six weeks before the beginning of the semester by post.


Study programmes with admission restrictions: After applying for a study programme, you will receive a notification telling you whether you are admitted for the study programme or not. If you have received a positive answer, you confirm your place by enrolling

External link

at the University.
Financial matters

In Jena, the average cost of living is just under 700 euros per month. There are many possibilities to finance your studies, e.g. scholarships, the BAföG student loan, part-time jobs, study loans, and education funds.
Looking for a place to live

Where do you want to live—in a shared apartment, in your own flat, or rather in a dormitory? Browse through apartment advertisements. The earlier you start, the better, because the demand is usually quite high at the beginning of the semester.

For new students, the student services organization Studierendenwerk ThüringenExternal link is the most important point of contact. Here, affordable living spaces throughout Jena are available for are rent. The Studierendenwerk maintains almost 30 student residences all over Jena.
Semester dates and lecture period

Summer semester 2023:

Semester period: 1 April 2023 - 30 September 2023
Lecture period: 03 April 2023 - 07 July 2023
Preparation courses and placement tests

Our students start their studies with different levels of prior knowledge. That is why in a number of subjects there are courses to prepare students for their studies before the semester starts.

In the preparation courses, gaps in knowledge from students' high school education will be remedied and existing knowledge refreshed. In addition, these courses provide an opportunity for new students to get to know the university and their new fellow students.

In a number of subjects involving languages, compulsory placement tests also take place before the semester starts.

You may have to register for both types of activity. If you have any questions, please contact the respective academic advisor. You can find the contact details in our course database.
Activate your student account / University login

As a student, you get a University account including:

To create a user account, you first have to registerExternal link. Only then can you make use of the IT services at the University.

Your login credentials consist of a username (a combination of letters and digits) and password. On the Service Portal, you need to accept the terms and conditions in order to be able to register. In addition, need to provide your name, including all first names, your date of birth, your matriculation number (six digits), and your PIN which you have received with your thoska card by mail.
Software for students

Students can obtain the software they need (e.g. Microsoft Office 365External link) via software licensesExternal link from campus and state contracts from the university data center. You can either choose from the range of existing licenses or apply for special licenses. This IT service is available to you with your enrollment and the activation of your university account through self-registration.
Tools for online teaching
Make use of help offers: advice and service
Registration of residence
Get to know the city and the campus
Student ID (thoska card)

The thoska is a multifunctional chip card, which serves as your student ID and confirms that you are a student at the University of Jena. You can use it as library, copy and printing card. It also serves as an electronic wallet for paying your meals in canteens and cafeterias. You receive it by post together with your starter package.
Check the e-mail inbox of the university regularly

You can access your e-mail inbox at https://webmail.uni-jena.deExternal link. With your user name and password from your student account you can log in. Before the start of the semester, we will inform you regularly by e-mail about important information and dates for the upcoming semester.
Participate in the Orientation Days (STET)

We organize Orientation Days to make sure all new students quickly find their feet. You can get essential information about the organization of your studies, pick up some insider tips from experienced students enrolled on your study programme—and ideally meet fellow students.

Programme of the Orientation Days
Check out the offer of the University Sports Centre

More than 350 instructors usually offer 80 different kinds of sports and disciplines in more than 700 courses per week. Everybody will find something to their liking—no matter if you prefer well-known sports or if you want to try something new.

See here for the programme of the University Sports Centre de (in German only)
Online organization of studies / timetable

Students of the University of Jena organize their studies themselves via the online course management system Friedolin.External link The Faculty of Medicine is an exception to this; here, the system in use is DOSIS.External link Students of Pharmacy are asked to refer to fsr-pharmazie.uni-jena.deExternal link.

In Friedolin, you will find module descriptions, recommended study plansExternal link as well as the course catalogueExternal link for all bachelor's, master's, and teacher training study programmes. Enrolled students can organize their timetables via the 'apply for modules' / 'schedule of classes' menu, register for examinations, and view their grades.

Information and training videos

To help you find your way around Friedolin, we offer online information and training sessions.

In addition, there is a help centreExternal link in Friedolin where you can find an FAQ section submit an online inquiry.

Learning platform Moodle

The University of Jena also works with the learning platform Moodle (moodle.uni-jena.deExternal link). It supports studying, but also work in research projects and at chairs and other organizational units. The system is suitable for supplementing classroom teaching, for blended learning, for distance learning courses, as a knowledge store and as a communication and cooperation platform.
Courses
Service desk for students

Some service facilities at the University Jena, such as the Student Service Centre, the Friedolin team or various examination offices, can be reached via a central service desk portal. Students can contact them directly there to make inquiries, clarify various issues or receive help on certain topics. This ticket system enables quick and easy communication.
Study spaces with internet access

In order to support students of our University in participating in online lectures, the number of study spaces with internet access has been extended.
Welcoming ceremony for new students

The welcoming ceremony for the winter semester 2022/23 will take place on 28 October at 14:00 in the Volkshaus of the city of Jena.
Accept assistance: extended introductory phase in your first year of study (eSTEP)

Beyond the first few weeks of your studies, there are numerous events and support offers to help you arrive at the University, adapt to your studies and, ultimately, advance.
Examination procedures

If you have specific questions concerning courses and examinations, please always turn to the lecturers or module coordinators.
Notice
The "Guide for New Students" provides further important information on the start of your studies at the University of Jena. It is available onlineExternal link in advance.
Central Student Advisory Service
University Main Building / SSZ
Fürstengraben 1
07743 Jena
Office hours:
We offer consultations and the handling of your concerns in person, via video chat or telephone. Appointments can be made by phone or via service desk.

Consultation hours:
Monday, Tuesday, Thursday and Friday from 9:00 to 12:20, Tuesday 14:00 to 18:00 and on Wednesday and Thursday from 14:00 to 16:00.
Video chat:
Monday to Friday 12.30 to 13:00
ZSB2020