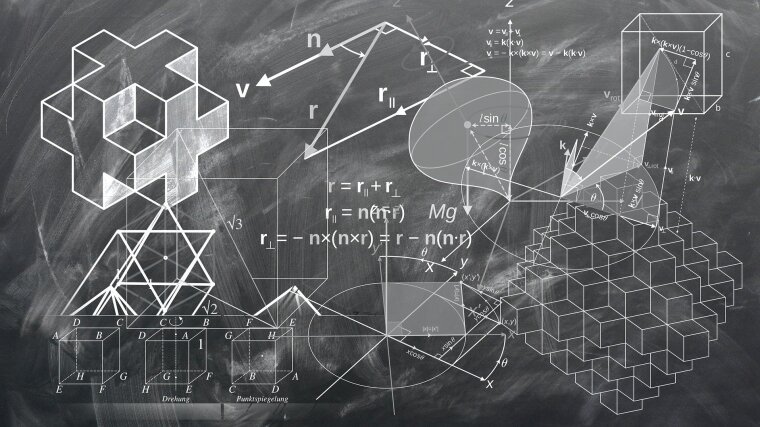 Examinations
A necessary evil
Geometrische Figuren und Berechnungen auf einer Tafel
Types of examinations their regulations and service
Examinations have always been part of successful studies. They have various forms: oral examinations with an examiner and assessor are an option alongside written examinations, homework, internship reports, seminar records, or practical performances, e.g. in sport. It used to be the case that examinations took place at the end of studies or as mid-term examinations at the half-way point. After the Bologna process, this is now rather different. On top of this, examination results are generally part of the final results from the first day of studies onward. This means that your performance is measured across the whole study period resulting in an overall grade which is calculated at the end.
Even if the amount of non-assessed coursework may not have changed, some students may be afraid of the importance of every single grade. This fear is not necessary. Many examination regulations foresee the option of excluding some of the performances from the grade calculations. Some of them even include a few ungraded attempts ("Freiversuch"). As a general rule, every examination can be repeated at least once. A second attempt can also be applied for in many subjects upon formal request. There are counselling services available for those who are nervous about their examinations. If it is really as bad, you may be excused with a medical certificate. For further details, please refer to the valid examination regulations de for your study programme.
For an overview of your studies, you can visit the portal Friedolin. In your account, you can check your current standings. If you have any questions regarding examinations, please contact your subject-specific advisors de and your examinations office. Please click here, to find your course advisor and the examinations office in charge. If your path leads you elsewhere, the Central Student Advisory Service helps you make the right decision.
Information
The may be your point of contact if you are nervous about examinations. Its experts may also help you in other problems and conflict situations. Among other services, the Psychosocial Counselling provides a coaching on completing your studies if they seem to become a never-ending story.
Student Services Organization - Psychosocial counseling