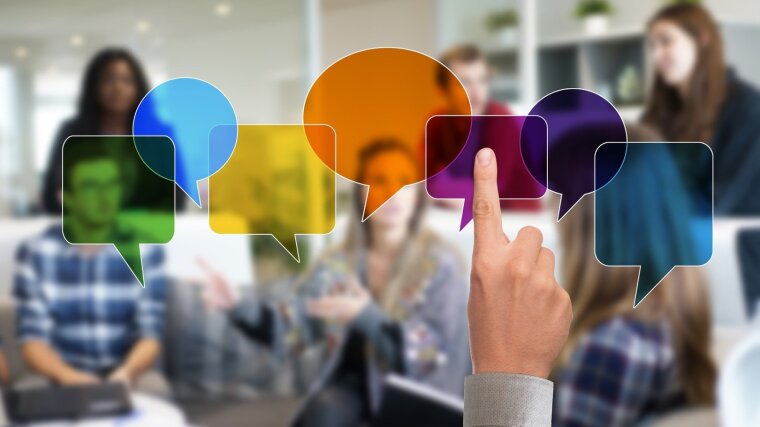 FAQ
Online application, admission and enrolment.
Sprechblasen vor einer Gruppe von Studieninteressierten
Information
If there is no answer to your question here, you are welcome to contact us via the Service Desk or during our telephone consultation hours. Please see the contact details at the end for more information.
Can I contact the person responsible for my degree programme or other admitted students in advance?

You are welcome to contact the person indicated in the programme description if you have any important subject-related question. Of course, you can always exchange ideas with other students of University Jena, especially with students of your field of study. Please get in touch with the relevant student council for this purpose.

How much are the tuition fees?

The University of Jena does not charge any tuition fees. However, all students must pay a rather small solidary contribution each semester.

Does the University of Jena provide any scholarships?

The University of Jena awards the "Deutschlandstipendium". This scholarship provides targeted financial support for outstandingly talented and committed enrolled students (not applicants!). The scholarship amounts up to 300 Euros per month and is, in general,  granted for the duration of one year.

Apart from that, the general source for additional funding is the DAAD's (German Academic Exchange Service) Central Scholarship Database. Please bear in mind that there might be specific deadlines for scholarship applications.
What language skills do I need?

This varies depending on the course of study. Please check the information provided on the respective study programme page.

What are the language certificates accepted by the University of Jena?

The University of Jena accepts several German language certificates, e.g. DSH or TestDaF. Please see a complete list of all accepted German language certificates and their required language levels. The certificates which are recognised as English and other language proof differ depending on the course of study. Please check the information on the respective study programme page or in the corresponding study regulations.

I received my English certificate TOEFL/ IELTS in 2013. Is the certificate still accepted?

No, TOEFL and IELTS certificates are only valid for two years. You must present a current certificate when you apply, or at the latest when you enrol. However, Cambridge English Certificates are permanently valid.

I have a German certificate at level B1. Is this language certificate sufficient for admission into a German-taught master's programme?

No, language skills at level B1 are not sufficient for studying a German-taught master's programme! You must have German language skills, e.g. minimum DSH-2-level and submit one of the following certificates:
• DSH "Deutsche Sprachprüfung für den Hochschulzugang", min. level 2 (= DSH-2),
• TestDaF "Test Deutsch als Fremdsprache", 4x4 (= min. level 4 in each category),
• Goethe certificate level C2,
• telc Deutsch C1 Hochschule,
• a German language examination in the framework of an assessment test at a preparatory college ("Feststellungsprüfung").

Can I get conditional admission into a German-taught master's programme?

Conditional admissions for a German-taught master's programme might only be given in rare cases and only when there is a chance that a candidate will be able to provide the mandatory language proficiency before the start of the semester he or she has applied for. This means, that in order to maintain that chance, you must provide a German proficiency at least on a level of B2 (according to the Common European Reference Framework for Languages) and the final exam (cf. above) registration confirmation with a date that lies before the start of the master's studies applied for (1 April/1 October). The enrolment legislation of the University of Jena is very strict in this regard and ultimately, all applications not meeting these prerequisites will not be successful. If you have not obtained the necessary language proficiency yet, you are welcome to apply again at a later stage, having improved your language skills.
Do you offer any pre-evaluations? Am I eligible to apply for this programme?

Out of several reasons, neither the Master Service Centre nor the Academic Admissions Boards do any pre-evaluations. Only upon reception of a valid online application, the respective admissions board will decide upon admission of a candidate. Please check the prerequisites for a specific master's programme (both academic and language requirements!) before attempting an online application. If you feel qualified, we are looking forward to receiving your online application!

Which master's programmes are offered at the University of Jena and how do I apply?

Can I apply for more than one master's programme?

Yes, that is possible. Please note that each master's programme for which you like to apply demands a separate online application. If you apply via OLAS you must send a signed application form for each application to master@uni-jena.de

When is the application for the master's programme due ?

The application period for the summer semester starts on 1 December and ends on 15 January of the following year. Applications for the winter semester start on 1 April/1 May and end on 31 May, 15 July or 15 September. The application deadlines vary according to the respective degree programme. Learn more about the application periods and deadlines.

Is the online application free of charge?

Yes, the online application is free of charge for ALL applicants.

What application documents do I have to upload online?

The required documents are listed in the section "Application documents" on the study information page of your desired master's programme.

My certificates are neither issued in German nor in English. Do I need to have them translated?

Certificates which were not originally issued in German or English must be translated into German OR English. Such translations must be carried out by authorised/ sworn translators/ translation agencies. Attestations made by non-certified translators will not be accepted!

Are certified copies necessary for the online application?

No, certified copies are not required for the online application; scans or simple copies are sufficient. However, if you are admitted, you have to submit officially certified application documents in paper (e.g. high school diploma, bachelor's degree).

Do I have to send my application documents in hard copies by post?

No, paper documents are not required for the online application. Please upload all application documents as PDF files to the application portal.

What are the entry requirements?

Each master's degree programme has different admission requirements. They are listed in the section "Admission requirements" on the respective study programme page.

I applied for a master's degree but I am no longer interested in the place of study. Can I delete my application?

Yes, you may cancel your application in the application portal at any time.

I would like to register for the DSH preparation course. What do I have to do?

All necessary information on the registration process for the DSH preparation course is provided on the official DSH course webpage. If you have any further questions, please contact the International Office at incoming@uni-jena.de.

Is my master's application also an application for the DSH preparation course?

No, an application for a master's programme is not equivalent to an application for the DSH preparation course or vice versa. If you would like to apply for the DSH course, please visit the official webpage.
Who checks my professional qualification? The Master Service Centre?

The Master Service Centre first checks whether your online application is formally correct and complete. If that is the case, your application will be forwarded to the selection committee, which consists of respresentatives of the relevant department. The committee will then check your eligibility based on all submitted application materials. To avoid delays in processing, please make sure that your application contains all the necessary documents.

My application was forwarded to the selection committee. When will I receive a response to my application from the committee?

Please note that there are no deadlines by which the committee needs to have made a decision. This will be subject to the committee's individual timetable/ timeline. However, you will be informed by email as soon as a decision has been made regarding your application.

I received a conditional offer. What do I do now?

Your admission letter will detail why you have been granted a conditional offer. A conditional offer might entail having to complete a module during your master's studies or having to have completed your bachelor's degree with a specific final grade prior to the start of your master's studies.

Can I defer or postpone my admission? Does my admission also apply to the start of my studies in the next semester or one year later?

Unfortunately, your admission to the master's programme is only valid for the respective semester for which you have applied. Your admission cannot be transferred to the following semester. Therefore, you must reapply the following year/semester. ​

I have been admitted, but I have not received my original admission letter via regular mail. Is there a tracking number?

There are no tracking numbers; admission letters leave us via normal mail, since we issue thousands of such during each admissions procedure.

In case you have not received your admission letter as a hard copy, please DO NOT WAIT for it, but use the digital one you received instead. It is identical and valid for all official purposes, including visa and/or scholarship application. The Master Service Centre can be asked for additional confirmation by all respective authorities, should need be.
Am I automatically enrolled if I am admitted to a master's programme?

No, the admission to a master's programme does not mean that you have been enrolled. First, you need to accept your study place by sending your signed statement of acceptance via email to the Master Service Centre. After that, further steps need to be taken in order to start your enrolment preparation. Please see question "What are the steps I need to take do after my application has been approved?" for further information.

What are the steps I need to take after my application has been approved?

You need to know that as an International Student, you need to take three steps in order to get enrolled successfully. You will need to follow the instructions given in the attachment to your admission letter. 1. Send your statement of acceptance to us via e-mail. 2. Submit the requested paper documents to the Master-Service-Centre. 3. Finalise your enrolment in accordance with the instructions given by our International Office. Only then you will be enrolled and can enjoy your student experience at the University of Jena. You will find detailed information here: 1. and 2.: https://www.uni-jena.de/en/Master_Enrolment 3. https://www.uni-jena.de/en/start+studying+international

I have submitted my enrolment documents already. Can you confirm the reception?

We are not able to do so at this point, technically and in terms of personnel. We will though contact you a) upon successful completion of your enrolment preparations or b) if there are documents missing that you need to submit inside a specific deadline in order for us to prepare your enrolment successfully.
Do I need an entry visa?

Please check the FAQ page of the International Office of the University of Jena if you need an entry visa.

I have received an approval but will not get my visa in time. What do I do?

Your admission is only valid for the semester for which you have applied. Unfortunately, a deferral is not possible. Therefore, your only option is to reapply during the next possible application period. The online application process does not change. Please note that you do not have to register again and may use the already existing login data. Please add the admission letter you have received during the current admissions procedure to the documents for your future application.

What is the cost of living in Jena?

In Jena, the average cost of living is about 700 Euros per month. The largest amount will be needed for living expenses, i.e. for rent, food etc.

How do I apply for a dormitory room?

Applications for dormitory places are managed by the Studierendenwerk Thüringen. Please note that dormitory places are limited and you should apply for a dorm room as early as possible.
Master Service Centre
Fürstengraben 1
07743 Jena
Office hours:
We offer consultations and the handling of your concerns in person as well as by Service Desk, live chat, Zoom, post and telephone. You find details at 'Consulting Services' on our website.

Please direct your enquiries via Service Desk at www.uni-jena.de/service-msz.
Postal address:
Friedrich Schiller University Jena
Master Service Centre
07737 Jena