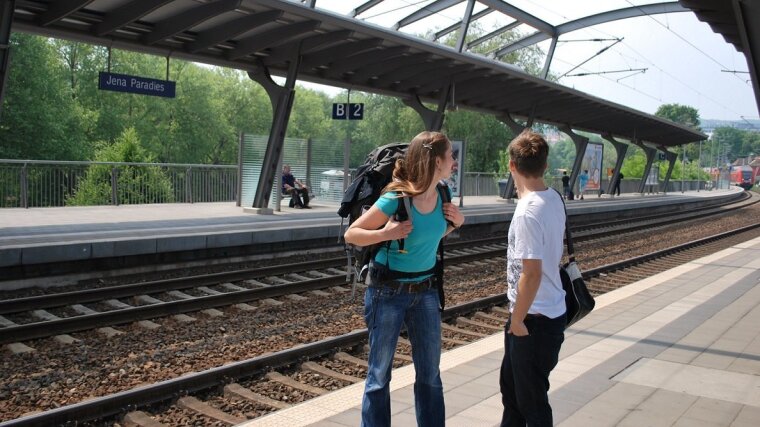 Refugees
Information for refugees interested in studying
Two young people with luggage at the Paradise station
Friedrich Schiller University Jena supports refugees in gaining a foothold in Germany and offers them new prospects.
The International Office at the University provides counselling and advice about study opportunities, requirements and individual possibilities. 
Refugee situation: general information

We recommend that you first find a safe place and a place to live. Register at the local offices, e.g. Bürgerservice or Immigration Office. The authorities will advise you on how to apply for financial support, find a job or learn the German language.

For further information for refugees, also on the legal aspects, please visit the websites of

Students of the Jena universities offer a legal advisory service for refugees in Jena (Refugee Law ClinicExternal link) and a migration and social advice service (MAPExternal link).
Pathways to studying at university

The University of Jena offers 203 different study sprogrammes. Which are the requirements for studying at the University of Jena? When and how can you apply? Please refer to our offers for international applicants

 de

to find out more about requirements and application.
If you cannot find your desired course in our study programme database, please refer to the Higher Education Compass

External link

to browse through the programmes offered by other German higher education institutions.
In order to apply for a study programme, you will need certified copies of German-language translations of your certificates.
If you are not sure yet what you want to study, please see our information on study orientation

 de

.
Save the date: University Information Day

 cn

13 May 2023

Admission restrictions

Some study programmes (e.g. Medicine, Pharmacy and Dentistry in the 1st subject-related semester and in higher subject related semesters, study programmes participating in the DoSV procedure) are subject to admission restrictions. This means that the number of study places available is very limited. In order to be admitted onto these programmes, you need to meet very high requirements and pass a selection process, so there is no guarantee to receive a place of study. We are also happy to advise you on alternatives.

If you want to continue your previous studies in a higher subject-related semester, you need to be able to provide proof of your academic achievements to date. A central examinations office will check whether your previous academic achievements can be recognized and credited. There is no guarantee that all achievements can be credited. As a result, your studies might take longer than planned.

German language abilities

Most study programmes offered by the University of Jena are taught in German; some master's programmes are taught in English. In order to be admitted to a programme, you need a very high level of German language proficiency (DSH-2 [DSH = German Language Test for Admission to Higher Education], corresponding to level B2+/C1 in the Common European Framework of Reference for Languages). You need to provide a language test certificate to prove your proficiency. It generally takes language learners without prior knowledge about 2–‍3 years to reach that level. The University of Jena offers a preparatory course for the DSH exam (starting from level B1, subject to a fee, application from May).

Migrants may learn basic German up to the level B1 in Integration Courses (find offering institutionsExternal link).

There are many online self learning courses, e.g.:

For Ukrainian prospective students and students there are the following offers:

Free participation in the self-assessment test onSET.
Free booking of an online self-study course (learning platform Deutsch-Uni Online)
Free participation in the language test TestDaF
Free participation in the study aptitude test TestAS

Information on registration and free booking: 

https://www.daad-ukraine.org/de/studieren-in-deutschland/digitaler-campus/External link

Those who assess their German language skills with the onSET will receive a free German course from Deutsch-Uni Online (DUO) for the next higher language level with their registration.
Guidance and advisory services

If you are interested in studying towards a first academic degree (Bachelor, Diplom, state examination) or in participating in the auditor programme, please contact Ms Dwars. You can find her office hours in the section International students and applicants on the website of the International Office. We also give advice via email, telephone or zoom (on request). We speak German and English.

If you are interested in obtaining a master's degree, please contact the Master Service Centre.

If you are interested in doing a doctorate, the Graduate Academy will be happy to advise you.

At-risk and refugee scientists and scholars are supported by the Team Guest Scientist.
Auditor programme

Those who would like to continue their academic education in their free time can participate in the university's auditor programme. The auditor programme comprises German-language courses on the basics of an academic subject. No exams can be taken or credit points earned in the auditor programme.

All details on registration, dates, costs, contents and contact for questions can be found at uni-jena.de/en/occasional-students.
Scholarships for the DSH course

For German-language degree programmes, proof of German language skills at the DSH-2 level ("Deutsche Sprachprüfung für den Hochschulzugang") is usually required. If you already have a good knowledge of German, but need to learn more German before studying in order to pass the DSH-2, we recommend our DSH preparatory course. The course runs from 27 March until 7 July 2023. 


The University of Jena offered 5 scholarships for refugees to attend the DSH course. The scholarship covers the course fees for the summer semester 2023 and the examination fee (one-time). The schoolarship will not be paid out to recipients. Application is possible until 31.01.2023.

Requirements for the DSH course scholarship for refugees:

German language skills at level B2
Please complete the scholarship application and send it to us with the following documents:


Refugee status in Germany, proof by residence title or passport with entry stamp (refugees from Ukraine, after 24 February 2022), or other refugee status in Germany.
Certificate of registration (place of residence in Thuringia, preferably near Jena).
certified copy of your school leaving certificate (in original language and translation)
certified copy of the transcript of records and degree certificate (if taken, in original language and translation)
a certified copy of evidence of your German language skills at level B2
a CV (in tabular format)

Scholarship holders will be selected after the entrance test for the DSH course (for the date, please see the letter of admission). Therefore, please do not pay any course fees yet. If you do not receive a scholarship, you must pay the course fees in the amount of € 1,050.00 by 03.04.2023 (payment in instalments is not possible).
Third-country citizens who fled from Ukraine

Information and advice for students from other states who fled from Ukraine and wish to return to their homecountries:
Funding
The INTEGRA programme for integrating refugees in higher education of the German Academic Exchange Service (DAAD) is funded by the Federal Ministry of Education and Research (BMBF).