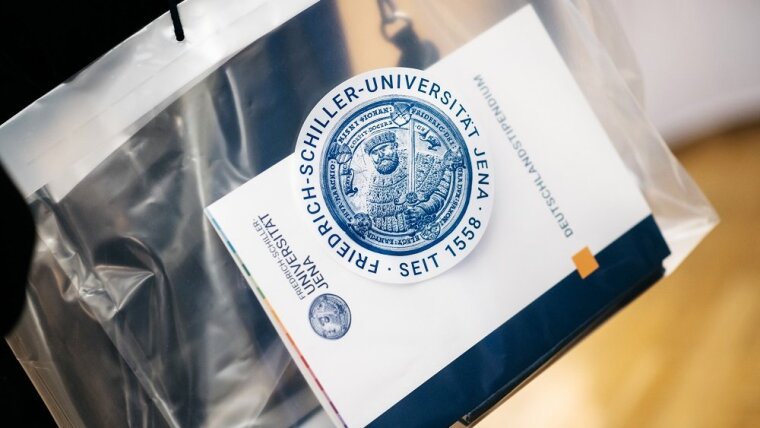 Apply for a scholarship
Opportunities for young talents
Deutschlandstipendium folder
All our knowledge is loaned by the world.
Friedrich Schiller
Have you ever considered applying for a scholarship? Young and talented students at the Friedrich Schiller University are supported through initiatives like the Deutschlandstipendium, which promotes bright minds and strong personalities, allowing them to unlock their potential in the local area.
In recent years, many high-achieving students have received the Deutschlandstipendium and benefited from a monthly cash injection of 300 euros for a whole year.

But where does the money come from? Private sponsors contribute 150 euros, and the other half is financed by the federal government. And do you know what the best part is? You do not have to repay it!

The Scholarships are advertised once a year for the winter semester at the University of Jena. The application deadline for the academic year 2023/24 has expired. Unfortunately, we cannot consider applications outside of the application period. The application is only possible via the online application form, which is activated during the application period.
Please note: Scholarships are usually granted for an initial period of one year. If you would like to continue receiving support, you will have to reapply by submitting an extension request.
Deutschlandstipendium
University Main Building
Fürstengraben 1
07743 Jena
Postal address:
Friedrich Schiller University Jena
Dezernat 1 – Studierende | Division 1 – Student Affairs
Weiterbildung | Further Education
Fürstengraben 1
07743 Jena
Germany