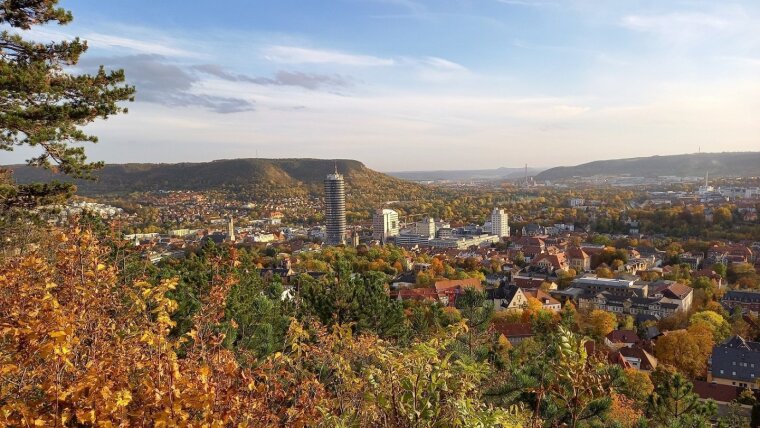 Beginning of studies for international students
Information for international students before and after arrival
Attention
Please read all information on this page carefully.
Most frequently asked, urgent questions

Can I enroll/study online (outside Germany)?

No, see Enrolment, step 1 and point 2 below.

Can I enroll after 14 October 2022 because I will receive my visa later?

No, see Enrolment, step 1 and point 2 below. This is a definite decision of the university, not changeable. We ask you to apply for the next semester please.

I don't have a room yet. What should I do?

Please search on the private market, in the cities near Jena. For more information, see Before Arrival, point 2 below.

How do I get a mentor?

See Before Arrival, point 4 below.

Do I have to go into quarantine?

See our Covid website.

Does the 3-G principle apply at the university?

Currently, yes. For more on the winter semester, see this page.

Does my vaccination apply? How can I get vaccinated?


See our Covid website and the Covid information for international students.

When should I transfer my semester contribution?

Play make the transfer only after arrival and not from abroad. See Enrolment, step 3.

Can I enroll without a permanent address?

Yes, the University accepts a temporary address for enrollment and does not need the official registration certificate. For the registration at the Residents Registration Office/Citizens Service you will need a certificate (Wohnungsgeberbescheinigung) from your accommodation provider. Registration should be made within 14 days after moving in (or at the next appointment available). See Living, step 1. If you are in quarantine for 10-14 days after arrival, still book your appointment for immediately after quarantine and provide written proof of quarantine.

How do I get a semester ticket?

After starting you enrolment (see Enrolment, step 1 below) you will receive a temporary student ID (valid from 1 October 2022; until then please buy local transport tickets, e.g. the VMT weekly ticket). After completing your enrolment, you will get your thoska which includes the semester ticket.

Where can I print documents?

If you have a thoska with credit on it, you may use the copy machines on campus or in the Computer Centre. Otherwise, take a USB drive (or send an email) to any of the copy shops (at Krautgasse, Schlossgasse, Unter der Kirche). Maybe a friend has a printer or thoska?

How can I pay at the canteen without my thoska?

See the information about the thoska in the enrolment chapter.
1. 

Visa

Visa necessary?

First, please check with the help of the Foreign Office portal if you need an entry visa if you want to study in Germany. Do not enter with a tourist/Schengen visa, because this is not valid for studying and cannot be changed into a student residence permit. Your passport should be valid at least 6 more months.

Special information for Ukrainians: Due to the current situation, you can also enter without a visa and apply for a residence title in Jena after arrival. Learn more

Visa application

Please use your admission letter to apply for a student visa as soon as you receive it. It is not necessary to submit any certificates regarding the teaching format. If an embassy or border control still requires a special certificate for entering Germany in addition to your admission letter, please point to the website of the Ministry of the Interior , FAQ  Are apprentices, students, school pupils, au pairs, volunteers, trainees and participants in language courses and vocational training measures from outside of the European Union allowed to enter Germany?. There it is explicitely stated: "And it is again possible to enter Germany for the purpose of completing a university course of study or for individual semesters of study. Students are required to present an admission notice issued by the institution of higher education. Because institutions of higher education are offering both online and in-person instruction, it is not necessary to provide any separate documentation of the need to attend in person."

If you are required to provide a university contact person in the vium application, please use the data given in the admission letter (header sheet/signature).

Proof of financial ressources

Applying for a student visa or residence permit, students should be able to prove sufficient financial means of EUR10,332 (2021) for the first year in a blocked account. All foreign students may have to provide a proof of their financial circumstances from their home country in order to show how they intend to finance their stay in Germany. This proof must be submitted to the Immigration Office where required. This attestation should be issued and signed either by the scholarship provider (DAAD etc.), parents/guardians or private sponsor. You can also submit a bank statement confirming that you have sufficient funds on your bank account. You should set aside approx. EUR 750/month to cover rent, health insurance, food, books, and personal items.

Health insurance 

Applying for a student visa, you will have to show a health insurance for travel to Germany. You can freely choose this health insurance for the trip, but please also note the information provided by the German embassy.

For the enrolment other rules apply, see below. Some of the insurance providers mentioned there also offer travel insurances which are valid for visa applications.

2. 

Accommodation/room search

You do NOT have an automatic room reservation with your admission to studies. You must search for your accomodation yourself. Start searching at least three months before arriving. The housing situation in Jena is very difficult.

Option 1: Apply for a room in the dormitory of the Studierendenwerk Thüringen

Apply for a furnished room in one of the  halls of residence in any case, even if you have not received your admission letter yet.  Apply by 15 January or 15 July. Make sure you remember to confirm your application and subsequent offer by e-mail, too. If you get an offer, please accept it, there will be no second offer, don't be picky. If finally you do not want to take the room, you can reject the offer before lectures start. 

Place s are few and there is a high demand, therefore there is no guarantee you will be given a place in the halls of residence. Therefore, please also read the information regarding private rental offers:

Option 2: Private rooms, apartments, shared flats

Please be aware that it is extremely difficult to find a private accommodation in Jena and that, if you are successful, it will probably be very expensive. We therefore recommend you to look for accommodation in other neighbouring cities (e.g. Weimar, Erfurt, Kahla, Gera, Apolda, Camburg, Stadtroda, Rudolstadt, Saalfeld) to where you can commute for free with your semester ticket.

Beware! There are fraudulent offers (DE) out there. You should not do the following:

Transfer money ("advance payment", "deposit") before you have seen the room and received a contract.
Transfer money abroad
Accept location sight unseen
Other tips (DE)

3. 

Travelling to Jena, scheduling your arrival

Scheduling your arrival

Please be aware of the various dates for

the German intensive course of the University Language Centre (see below),
the Orientation Days (see below) and
the enrolment (see below).
arriving in your dorm. If you are living in one of the halls of residence of theS tudierendenwerk, you should ask the responsible student dormitory residential tutor when you can move in to your room
a pre-course/German course you might be attending before the beginning of the semester (1.4./1.10.): ask your housing provider if your room is available earlier. Otherwise, please organize other accommodation (see "Accommodation" above).
the information on entering Germany, quarantine, testing in the Covid situation. If, still, you miss important dates of the Orientation Days or face-to-face classes after the start of lectures because of the quarantine, inform the responsible contact persons/teachers and ask for alternatives.
different timetables may apply on public holidays and at weekends. Shops are closed on Sundays and public holidays (Good Friday, Easter Monday, and German Unity Day on 3 October).

Travelling to Jena

Take a plane to airports with a good train connection to Jena: Leipzig, Munich, Frankfurt or Berlin
Take a train or bus directly to Jena or via Erfurt/Weimar: DB Navigator, Flixbus
Baggage lockers can be found at the Paradies station.

4. 

Mentoring programme: help with first steps

As an international student, you can receive free help and support for your start in Jena fromv olounteer mentors of the International Office. The mentors (tutors, buddies) will help you with all administrative procedures, the registration at the university and the city of Jena, i.e. with everything you need to do to start your studies.

If you would like a mentor, please register for the mentoring programme in early March/September. You may find further information regarding support. You will receive the contact details of your mentor approximately two weeks before your arrival in Jena.

5. 

Useful apps

Have a look at what is going on in Jena:

Download important apps:

6. 

Covid information

general information on entering Germany, quarantine, testing in the Covid situation.
information of the University for students.

7. 

Bring these items with you

Passport or identity card
Vaccination records (if possible: Covid vaccination/recovery certificate)
Admission letter to study at the University of Jena
Erasmus students: Certificate of Arrival/Attendance (you will receive this from your home university)
Smartphone with SIM card and internet credit
Laptop
Clothes for all weather conditions
Credit card and at least EUR 1,000 in cash for the first 4-8 weeks.

8. 

Pre-arrival workshops (online)

The International Office offers workshops before enrollment begins to prepare you for your start of studies. Here you can also ask questions. The following topics will be covered:

Dormitory application
Visa application
Financing your studies
Arrival organization
Mentoring programme
Enrolment
Orientation days
Welcome days
Information material
FAQ: all other questions you wish to ask.

You can find details about the workshops for degree-seeking students and DSH course participants on 5 July and 8 September 2022 in the calendar.

Guest (exchange) students please note the dates of their special workshops.
Step 1: Start your enrolment with the personal registration

The following information about the enrolment for winter semester 2022/23 is subject to changes. These might be made on short notice. We apologize for any inconvenience.

The personal registration is OBLIGATORY for all new international students!

How: by a personal check-in at the Enrolment Office

Where: room 2.19 University Main Building (Fürstengraben 1, entrance Schlossgasse, 2nd floor, location)
When:  26 September - 14 October 2022, Mon-Fri 10:00 - 14:00. The University is closed on 3 October 2022 because of the national holiday.
Bring

your admission letter,
passport/personal ID,
medical/FFP2 mask.

You will receive a temporary student ID card and your starter package with further information. This temporary student ID serves as a semesterticket from 1 October 2022, but cannot be used in the Mensa/Cafeteria.
Note: Please keep the 2m distance, wear your mask, desinfect your heands before entering the room.
Advice: We recommend enrolling between 26 and 30 September 2022 to ensure taking part in Orientation Days (see below) and registering for courses on time. After 14 October 2022, 14:00, no enrolment is possible. It is not possible to enrol or start your studies from outside Germany, even if courses are taught online.
Erasmus+ students must start enrolment before or on 4 October 2022 in order not to risk any reduction of their scholarship (please ask your home university for exceptions).
DSH course participants please read the instructions on enrolment given during the entrance test.
If you must stay in quarantine after arrival and cannot come in person until 14 October, send us an email right after arrival, but before 14 October 2022, 14:00: incoming@uni-jena.de.

To complete your enrolment, follow the steps 2-5.

Step 2: Fill in the address form

All new students have to inform the Internationalen Büro about their current postal address in Germany.

Fill in the form

paper form from the rack opposite room 0.17, Fürstengraben 1.

Please note:

Write in the form what exactly (names, numbers) is written on your mailbox.
Make sure your name is on the mailbox.
We do NOT need your Meldebescheinigung (registration certificate) from the Bürgerservice.

Step 3: Pay the semester contribution

All students of the Friedrich Schiller University Jena must pay a semester contribution. The semester contribution is not a tuition fee. The fee covers the contribution for the Studierendenwerk, the train fare for the public transportation in Thuringia, the local fare JeNah-Ticket, the Jena city culture ticket, your student cardt hoska, and the contribution for the Student Representative Council.

Please transfer the money after you have arrived to the Universitys bank account, NOT from an account outside Germany.

For the winter semester 2022/23, please transfer EUR 266.10 to this bank account:

Recipient (Empfänger): Friedrich Schiller University Jena
Bank: Deutsche Bundesbank
IBAN: DE09 8200 0000 0083 0015 03
SWIFT/BIC: MARKDEF1820
Reference code (Verwendungszweck): 222-NEU-799, First name, surname (eg.: 222-NEU-799, John Smith). If you know your student number (Matrikelnummer) please insert it instead of the word NEU.

Options to make and prove your payment (documents in German or English)

Option A) If you use an active German bank account (or an account held by a friend if it takes too long to activate your account).

You may get a certificate right after giving the order ("Auftrag", "order", "Überweisung entgegengenommen"), but this does not mean the bank has processed it yet. We need a booking date, i.e.:
Account statement/sales printout: You can obtain the account statement from a cash machine 2 - 3 days after the money transfer. OR
Online banking: full computer screenshot of your money transfers, in German or in English, with details of the account number and account holder.

Option B): If you do not have an active account, you can make a chargeable cash deposit to the Universitys bank account quickly and easily at the Postbank Jena or the Deutsche Bundesbank Erfurt. 

Cash deposit receipt: You can obtain this form from the counter. It must be electronically stamped. Hand in the original proof.

Option C): You may pay with MasterCard, Visa, Visa Electron, VPay or Maestro at the International Office. No cash. Room 2.21 UHG, 27 & 29 September, 4 - 14 October 2022, Mon-Fri , 8:30 – 9:30 Uhr.

Hand in a copy of the payment proof.

Note: International bank transfers from outside Germany are NOT accepted.

Step 4: Register at your health insurance

Your insurance must be valid for the entire duration of your stay at the University, i.e. from the first day of the semester (1 April/October) until the day of the de-registration.

Students of under 30 years of age

A German public health insurance is standard for students under the age of 30. In Jena, there are:

When registering with the health insurance company, please mention the "sender number" H0000923 of the University of Jena.
The health insurance company will register your status "M10.1" electronically with the university. You do not have to hand in any documents to the University.

However, if you have got a statutory EU health insurance (EHIC) or a private insurance (for example provided by your scholarship  such as DAAD), you must apply for exemption from the obligation to buy a statutory German health insurance (or buy one). Contac a statutory the insurances (e.g. AOK, DAK or TK, see above). Send them by email, post or hand in a photocopy of the following items:

passport/id card,
admission letter,
European Halth Insurance card or substitute certificate or private health insurance contract,
your complete German adress (you may use the form of step 2 above).
When registering with the health insurance company, please mention the "sender number" H0000923 of the University of Jena.
The health insurance company will register your status "M10.2" electronically with the university. You do not have to hand in any documents to the University.

Note: Please make sure that you have sufficient insurance coverage. The university does not cover any costs in case of illness.

Students over the age of 30, Participants in the DSH-Course or Study College, Guest Doctoral Candidates

... should also have a health insurance (and must show a proof when applying for a residence permit). You can only be voluntary members of the public health insurance system. The alternative is  a German private insurance such as Care Student, Educare24, Young Travel Profi (Hanse-Merkur/Advigon), Mawista Student, Vela optimal or Travel Secure Young (Würzburger). Make sure you choose the health plan which also covers rehabilitation, pregnancy and psychotherapy. Some also offer combinations with Travel, liability and accident insurances.

You do not have to hand in any documents to the University.

Step 5: Complete the enrolment: hand in documents

Submit the following documents as paper copies to the International Office as quickly as possible, by 25 October 2022, 12:00 noon, at the latest.

the form with your current German address (see step 2 above)
proof of payment of semester fee (see step 3 above)

all in one envelope, addressed to:

International Office, SG International Students
Universität Jena
Fürstengraben 1
07743 Jena.

Submit your documents:

in the postbox of the International Office next to room 0.18, Fürstengraben 1 (see picture above) or
in the postbox in front of the University Main Building at Fürstengraben 1 (entrance at Schlossgasse; delivery takes one extra day) or
by classical mail
NOT by email.

Printing/copying without thoska:

You can print/copy your documents that you are supposed to hand in for enrollment with a USB stick (or by e-mail) in one of the copy stores e.g. Krautgasse, Schlossgasse, Unter der Kirche). But maybe neighbors/friends have a printer or thoska?
Please also note the following information:
Questions?

Late arrivals and visa problems

Campus login and university email account

Student ID card thoska

Student certificate for the Immigration Office
1. 

Academic Calendar: Semester Dates

2. 

Degree-seeking studies

3. 

Guest studies

4. 

Results of DSH exams and entrance tests

5. 

Learn German or other languages (extracurricular)
1. 

Welcome Days

The Welcome Days and many other events help you to get to know the University and city of Jena and make new friends quickly.


The next Welcome days will take place from 26 September - 31 October 2022. Join us at Welcome Days
Find all events of the Welcome Days at the calendar.

2. 

University Sports

3. 

International campus - Intercultural trainings

The University of Jena has an international campus: students and scientist from over 100 countries from all continents study and work here. Everyone can expect mutual consideration, openness and tolerance from everyone else.

Intercultural competence remains a key competence. If you are eagerly planning your next stay abroad or already studying today as an incoming student in Jena or taking care of foreign students as a mentor or simply intend to work in the international arena in future days or just want to enhance your intercultural competence out of pure curiosity, we offer you in cooperation with the International Office of the University of Jena a free virtual intercultural training.

For alle information about the next trainings (23 April-14 May) take place and on how to register see the  calendar
1. 

City residents' registration office

Within 14 days after entering the country (or at the next available date), you should register your residential address at the Citizens' Service Centre of your place of residence. To do this, you will need a housing provider certificate, which you will receive from your landlord.

In Jena, you must book an appointment online. If there are no appointments available within the deadline, please book the next available one.

Note: it is not necessary to hand in your registration certificate for enrolment.

2. 

Bank account

For recurring payments like rent, health insurance, mobile phone/internet, broadcasting fee (see point 4 below) and much more you need an account.

If you have an account in the EU (SEPA procedure), you can use it.

Otherwise, open an account here at your place of residence in Germany (or activate your blocked account, which you had to open for the visa application). Some banks require a minimum term and/or a valid visa/residence permit.

When choosing, pay attention to the monthly fees and conditions, terms and cancellation periods, costs for all services associated with the account.

3. 

Immigration Office

Non-EU citizens whose entry visa is shorter than the planned stay shall apply for a residence title for the purpose of studying at the latest 2 months before the expiry of the entry visa.

Non-EU citizens who were able to enter without a visa apply for a residence title for the purpose of studying no later than 6 weeks after entry.

All non-EU citizens will receive a first study certificate for the Immigraton Office with their thoska.

The Immigration Office of the city of Jena will explain more about this. If you live in Jena, please make an appointment. When you book an appointment at the Immigration Office in Jena, you will receive an e-mail to verify your booking and then an appointment confirmation. If you do not live in Jena, ask your registration office (Bürgerservice/ Einwohnermeldeamt) where your Immigration Office is located.

Your appointment is very late? Don't worry! If you book an appointment at the Immigration Office in Jena, the appointment confirmation e-mail will state that you are considered provisionally registered, i.e. legally in Germany, until the appointment date. Please keep the appointment. However, please note that you should not leave Germany  and you are not yet allowed to work until you receive your new residence title (re-entry is not possible).

4. 

Broadcasting licence fees

Every household has to pay the broadcasting licence fee, known as the Rundfunkbeitrag (previously GEZ), even if there is no television, radio or Internet. The good news is that people living in a shared flat can divide the fee amongst the occupants. Watching television and listening to the radio are good ways to learn German. There are really great broadcasts. You can find more information on the licence fee here. 
Enrolment: Anna explains what steps you should take after your arrival in Jena. You will learn everything about enrolment, registration with local offices and authorities, about the health insurance and your student id card.
To have the best study start possible, Anna shows you how to register with the University Computer Centre and the library, how to create your timetable, and how to sign up for German courses. She also gives you advice on how to meet other people quickly and suggests you some free time activities.
International Office – International Students
Universitätshauptgebäude (UHG), Room Room 0.17-0.19
Fürstengraben 1
07743 Jena
Opening hours:
Opening hours:
Please see the office hours of the individual persons (follow the link "More information" on the left).