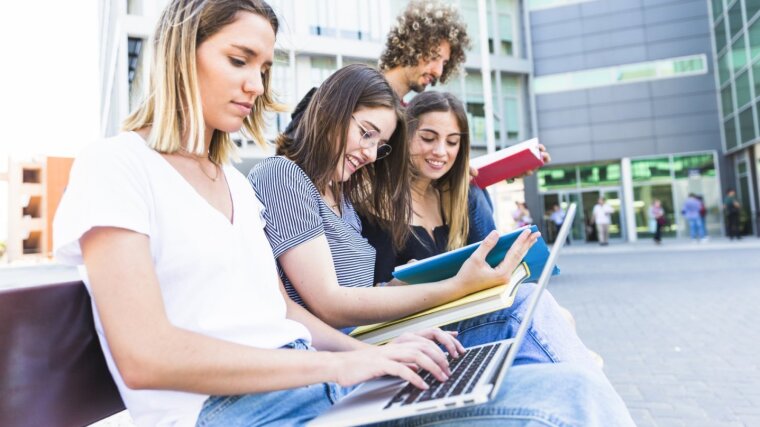 Prepare your choice of study well
Shape your future with our services
Pupils discover our range of study programmes
Image: freepik.com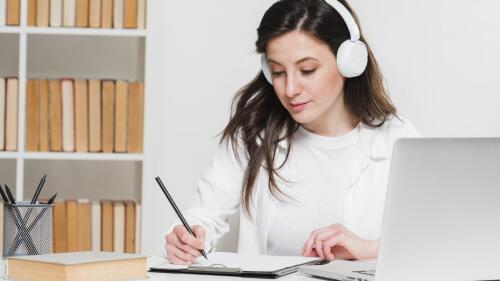 Try studying
Explore different fields of study, take a (virtual) walk through the main university building or get a sneak peek at online courses. We are also offering special seminars for groups.
1. Who am I and what do I want?

My interests:

What am I interested in? What problems would I like to solve in the world? How do I spend my free time? What kind of books or magazines do I read? What kind of films do I watch? What do I look up on the Internet? What are my favourite subjects at school?

My skills:

What am I good at? What are my natural abilities? Where am I successful?

My values and goals:

Where do I see myself in 10 or 20 years? What values, professional objectives and personal goals are important in my life? How much do I want to earn? What is important to me in life?

My knowledge and gaps in my knowledge:

What would be my dream job? What do I know about possible study and career paths and current opportunities on the job market? How do I envisage my dream job?

Helpful worksheets:

Values and Motivation [pdf, 777 kb] de

2. What and where do I want to study?

When choosing a field of study, it might be useful to work from the general to the specific. If you are not yet completely sure, you might like to get a feel for various study programmes in different fields of study. There are useful tools, such as the Higher Education Compass and studienwahl.de.

Where you study is also important! Some study programmes are only offered at a few institutions, and even standard courses (e.g. mathematics, psychology and business administration) have different focuses from university to university. And every city naturally has its own flair and qualities.

Studying in Jena

If you are sure you want to study in Jena, you can filter our study options by groups of subjects or faculties – you might even find subjects you have never heard of.

3. What should you know about studying?

Types of degree

Bachelor's: A bachelor's degree is usually the first part of a tiered course at an institution of higher education. The standard length of most bachelor's degrees is six semesters.


Master's: A master's programme usually lasts two to four semesters and complements an undergraduate degree (most commonly a bachelor's degree). The aim is usually to deepen your academic knowledge gained during the previous course.


State examination: A state examination opens up access to certain professions that are regulated by the German government (e.g. doctors, pharmacists, lawyers) or to civil service itself (e.g. judges, public prosecutors). The final examinations are monitored by a German state authority (examinations office).


Teacher training ('Regelschule' or 'Gymnasium'): A teacher training programme at our university comprises a combination of two subjects and educational science. Prospective students have to prepare for their future career by undertaking a work placement (320 hours) before their studies or by the fourth semester at the latest. Students graduate from teacher training programmes with a 'first state examination'.


Doctorate: A doctorate is awarded on the basis of specialized, independent and original academic achievements.

Admission requirements

The most important requirement for starting a degree programme is a university entrance qualification. For subjects with admission restrictions, you should also take note of the minimum required grades ('numerus clausus'). Other admission requirements may include pre-study internships, aptitude tests and specific foreign language requirements. More information can be found in the study options.

More information on admission requirements for international students and prospective students is provided by the International Office.

Of course, other aspects are also important:

4. Where can I get reliable information?

5. How can I compare my expectations against reality?

Self-assessments and skills tests

Once you have narrowed down your choice of study programmes and you know where your skills and interests lie, you will have to check whether both fit together. You might find self-assessments helpful. These are free online tests that will help you reflect on your decisions.

6. How can I make a good decision?

As there are different kinds of decisions, there are also different ways of making a decision. Some require analytical and rational thinking, while others are about trusting your intuition and going with your gut feeling.

7. What do I have to consider when starting my studies?

If you decide to undertake a study programme at the University of Jena and everything goes well with your application, admission and enrolment, your first semester will begin on 1 October or 1 April. 

We look forward to meeting you and hearing your ideas!
Central Student Advisory Service
University Main Building / SSZ
Fürstengraben 1
07743 Jena
Office hours:
Monday, Tuesday, Thursday and Friday from 9:00 to 12:20, Tuesday 14:00 to 18:00 and on Wednesday and Thursday from 14:00 to 16:00.

We offer consultations and the handling of your concerns in person, via video chat, service desk or telephone.

Appointments can be made by phone or via service desk.
Video chat:
Monday to Friday 12.30 to 13:00
ZSB2020