Health-driven leadership
Here you can find all offered measures in this key topic
Das Video zeigt die Angebote der betrieblichen Gesundheitsförderung zum Thema gesundheitsbewusst führen. Der Film wurde zum Abschluss des Gesundheitsprojektes mit der AOK gedreht.
As part of our campaign to promote the health and well-being of our staff, we also offer important support to our managers. Evidence shows that employees are more motivated, productive and willing to perform when their department is shaped by a friendly, cooperative and constructive atmosphere. It is always up to executives to create a positive atmosphere in their department.
Health-driven leadership inhouse programmes
During the semester we offer some workshops with the topic of health-driven leadership. For current events click  here.
All leadership development opportunities can be found here de.
Image: Max Schneider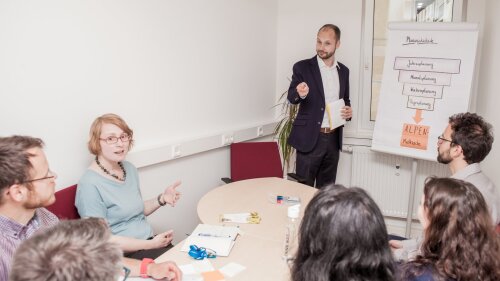 Online self-study programme "healthy leadership"
Our cooperation partner AOK offers furthermore a programme for independent study.