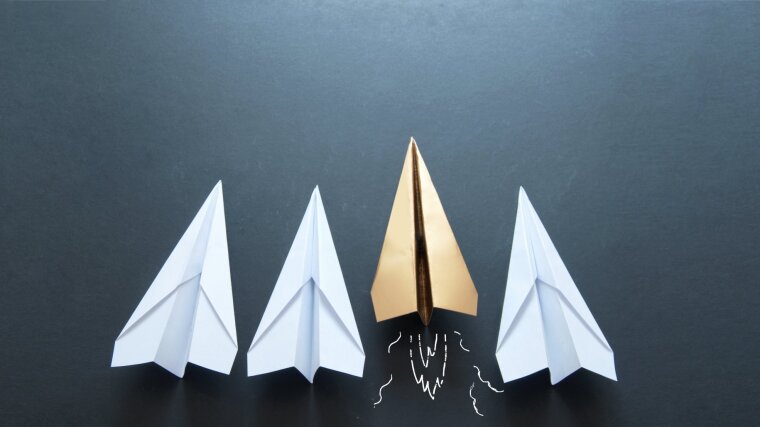 Teaching Award
Friedrich Schiller University Jena annually rewards excellent teaching concepts with Teaching Awards..
Teaching Award symbol: a golden paper plane flies ahead of three white paper planes
Who selects the award winners?

The panel of experts of the Academy for Teaching Development selects the award winners on the basis of the nomination documents received.
What are the selection criteria?

Teaching concepts rated as outstanding in at least one of the following criteria can receive a teaching award:

innovative teaching methods and learning materials are used in a target group-specific manner
the didactic design of the course supports the learning process and success of the students in a special way
exemplary forms of interaction between teachers and students are used.
Who can be nominated?

All professors and academic employees working in teaching at Friedrich Schiller University Jena can be nominated. In addition to individual teachers, teams can also be nominated.
Who may nominate?

students (a minimum of five)
subject-specific student representative committees
academic staff
professors
How can nominations be submitted?

In addition to nominations by students and/or other teachers, direct applications are also possible.
A nomination form is available which must be completed in order to submit a nomination. The completed form, together with the other necessary nomination documents, must then be sent by email to the Academy for Teaching Development (ale@uni-jena.de) by the application deadline.

All annually updated call documents, including the nomination form, are usually released in February/March of the respective year.
Image: Jens Meyer (University of Jena)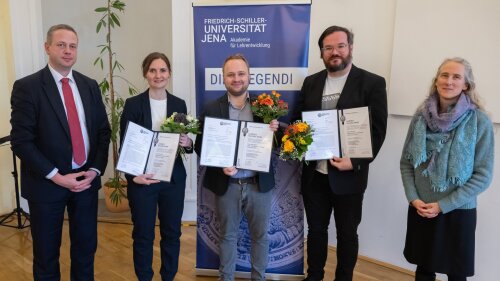 Image: Jürgen Scheere (University of Jena)